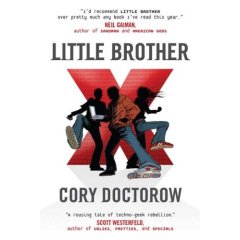 It's tough times out there, and book-buying dollars are scarce. But there was some great science fiction published in 2008, even though some of the genre's superstars (Ian McDonald, Richard K. Morgan) didn't have any novels out this year. Making this list was more arduous than in years past, and in the interests of picking out five sure things for your sci-f spending cash or gift ideas, some great books were left off. But if you've got the lucre to spare, honorable mention goes out to Paul Melko's SINGULARITY'S RING, Charles Stross' SATURN'S CHILDREN and David Louis Edelman's MULTIREAL. Here's the top five:
5. LITTLE BROTHER by Cory Doctorow — Doctorow brought his great characterizations and snappy dialogue to the young-adult shelves in 2008 with this rousing call to arms. In LITTLE BROTHER, Doctorow takes his stick-it-to-the-man-with-technology worldview and puts it in the context of a terrorist attack on San Francisco, telling it through the eyes of a teenager caught on the wrong side of the "war on terror" who becomes a figurehead in a technology-enabled social revolution. LITTLE BROTHER is a book that should find its way into every teenager's hands — there are very few things that would make me want to go back to high school, but a novel like this makes me almost wish I was a teenager again, with idealism and infinite options in front of me.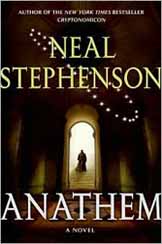 4. ANATHEM by Neal Stephenson — On that note, ANATHEM is sort of like that high school teacher you hate at first for being tough on you, but end up loving by the end of the semester. This doorstop-capable tome is crammed full of new ideas, insights and vocabulary, and the opening is dense enough to frustrate. But Stephenson builds an incredible story on that bedrock of exposition, and as the scientific monks of ANATHEM venture out into the world, an adventure unfolds that wouldn't have been nearly as rewarding without all those pages at the beginning that were devoted to describing a clock tower.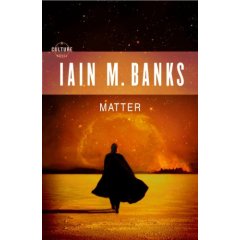 3. MATTER by Iain M. Banks — Having never read one of Banks' "Culture" novels before, I was a little bit intimidated. I had heard all these great things about how important and grand they were, and I have to say, it put me off. But once I got into MATTER, I loved it. This is space opera on a grand scale, and it presents ideas that are indeed important. But it's never self-important, and the focus is squarely one the individual characters' journeys through the landscape Banks has created. It's funny, fun, action-packed and deep. So now I've got a pile of his other novels on the bookshelf, and I can't wait to get into them.
2. SLY MONGOOSE by Tobias S. Buckell — Buckell doesn't need a huge page count for his books, but he deinitely uses the pages that he has for maximum impact. SLY MONGOOSE is the third novel set in the Caribbean-infused future he kicked off with CRYSTAL RAIN and RAGAMUFFIN, and while knowledge of the backstory is an added bonus here, newcomers won't be lost in this hard-edged actioner that pits a hard-ass cyborg against a seemingly endless tide of alien zombies. That's awesome in and of itself, but the cultures and characters that collide in SLY MONGOOSE make it so much more than a by-the-numbers zombie explode-athon.
1. FAST FORWARD 2 edited by Lou Anders — Up until last year, I would never have believed that an anthology of new science fiction could be the best sci-fi book put out in a given year. First of all, is there even a demand for such a beast? It seems that a budding anthologist could make a far more successful book by picking a theme, say "green aliens with tentacles who are really children in search of their parents but are thought of as evil because of a cultural misunderstanding," and find awesome tales from the genre's creaky grandmasters that would guarantee an endcap placement at Borders. (This is by no means a knock against some of the great anthologists out there, like John Joseph Adams, whose WASTELANDS collection had a big impact on me this year.)
But Anders, who has paid his dues many times over in the science-fiction trenches, doesn't seem to do the predictable thing, and his risk-taking has paid off. FAST FORWARD 2 is even more electric than last year's first: Anders has assembled some of the best and brightest current stars of the genre, and they turned in stories that, as a whole, really do represent the cutting edge of fiction. From a fashion designer who grows living gowns to a raid on the doomsday seed bank to a young man getting Cyrano-with-a-twist dating advice in the India of the future, FAST FORWARD 2 is the book to read this year. It's the surest of sure things, and a bargain, to boot. —Ryun Patterson