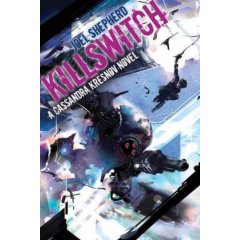 In formulating this year's list, I took a long, hard look at my nominees and made, perhaps, a bold choice: I left out William Gibson. It's not that SPOOK COUNTRY isn't a good book – it is. What it isn't, however, is science fiction.
Mr. Gibson, I really like your work, and SPOOK COUNTRY was one of my favorites in 2007, but other books that are actually science fiction deserve a shot. My new stance also took one of my other favorites of 2007 out of the running: CROOKED LITTLE VEIN by Warren Ellis.
It's weird, yes, and there's a bit about an alien. But really, CROOKED LITTLE VEIN is a travelogue, an examination of America that's really more of a realist dark fantasy than science fiction, so out you go. As for the "mundane sci-fi" manifesto goons, be warned: Get with the program or get lumped into the "general literature" section.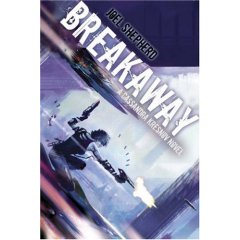 5. BREAKAWAY / KILLSWITCH by Joel Shepherd
There's not a lot about these books that I haven't already said in my pair of breathless reviews, and while one probably would have made the list on its own merits, having two of these tomes in the span of a year really takes the cake. Pyr books has been knocking down doors in both publishing original fiction and bringing foreign work to North America, and Shepherd's Cassandra Kresnov series demonstrates the second half of this equation wonderfully. Why weren't these books brought over sooner? How many other authors and ideas are just waiting to get picked up, gussied up with holy-cow-amazing cover art by the likes of Stephan Martiniere, and unleashed upon the unsuspecting North American public? More, I hope.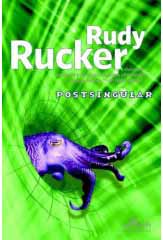 4. POSTSINGULAR by Rudy Rucker
Rudy Rucker is well-loved for tons of things, but I am totally in love with his characters. Not since Philip K. Dick has there been an author more able to drill down to what exactly makes us human and expose it for everyone to see. POSTSINGULAR – which deals mostly with society's total, overnight change and the people who get mixed up in it – has an unbelievably awesome, unbelievably human cast of characters, from the dumpy scientist to his autistic genius son, to the street kids who have huge dreams and small ambition. Every word of dialogue is pitch-perfect, and along with a fairly adventurous interdimensional plot, POSTSINGULAR is my favorite Rucker book in years.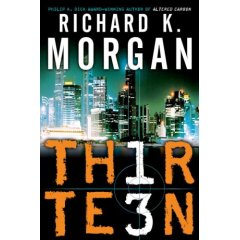 3. THIRTEEN by Richard K. Morgan
The opening chapters of THIRTEEN gave me pause, because it seemed that taking potshots at America's "red states" is an all-to-easy shtick nowadays, but it's really just a ruse: The novel's real meaning lies in its exploration of nature vs. nurture, and its meditation on loss and death. Morgan easily could have phoned this one in, but he tried to stretch himself instead; he succeeded. THIRTEEN is much more than a dystopian, genetically enhanced thriller, although fans of high-tech action will get their fill here, too. Morgan's next book is going to be fantasy; judging from the growth he showed in this, I can't wait to read it.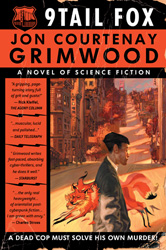 2. 9TAIL FOX by Jon Courtenay Grimwood
When I finished 9TAIL FOX, I liked it, but I can't say I loved it. As time passed, and I thought about it, my own life in relation to it, and the world in relation to the world within, it seriously grew on me. I've since reread it twice, and each time I get something new from it: maybe hope, maybe a sense that everyone can make something of themselves, despite who they've been or what they've done. 9TAIL FOX is all about possibilities, and I encourage everyone to explore what Grimwood's presented us here. And yes, it is science fiction. (Side note: I also love Grimwood's END OF THE WORLD BLUES, and it probably wopuld chart at No. 3 or No. 4, but I wanted to get some other names on the list. I hope nobody minds, and everybody picks up both of these awesome reads.)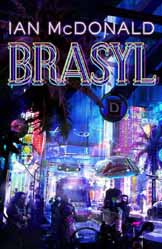 1. BRASYL by Ian McDonald
Holy wow. Once I started reading BRASYL, I knew I would never see the world quite the same way again. Set simultaneously in three different time periods, McDonald's latest and greatest explores quantum reality with a cavalcade of amazing characters and a dizzying amount of speculative insight. You'll never look at frogs quite the same way after reading it, and BRASYL shows that Pyr has serious chops in acquiring new material in addition to picking up previously published gems. Read the review if you want more, but my first recommendation is this: Close your browser, put your computer to sleep, go to the bookstore, buy BRASYL, take off the dust jacket without reading it, and clear your calendar. You're in for a treat. Along with McDonald's RIVER OF GODS, it is easily one of the best books of the last 10 years. –Ryun Patterson