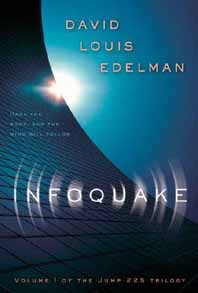 2006 was a solid year for science fiction. The biggest story of the year, in my opinion, is Pyr's rise to prominence as a high-quality sci-fi imprint. Pyr has managed to round up a stable of authors and titles that represents the cutting edge of sci-fi and backs it up with promotion and marketing that pretty much outdoes the other imprints out there. Bravo, Pyr. Here's hoping for an even greater 2007. With that groveling out of the way, here's the rundown of the five best sci-fi books I read this year:
5. INFOQUAKE by David Louis Edelman / CROSSOVER by Joel Shepherd (tie) – This pair of books is a great example of what Pyr is doing right. INFOQUAKE is a tech-heavy exercise in scientific speculation that combines economics, high technology and business mechanics into an all-too-human story of greed, loss and redemption. CROSSOVER isn't satisfied with being just another hot-chick-android-assassin book and goes for some heavy-duty characterization (not unlike what's been going on in TV's BATTLESTAR GALACTICA) that makes the kicking ass that much more tremendous.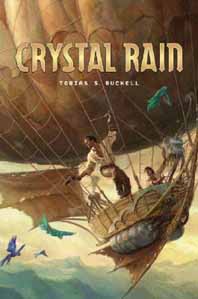 4. CRYSTAL RAIN by Tobias S. Buckell – I really thought this was going to be a stupid book. The way the cover and jacket sold Buckell's Caribbean upbringing and the tropical world he created, I expected a second-rate hack job by a guy who managed to pull the wool over a publisher's eyes. Wrong. CRYSTAL RAIN is a bloody, satisfying adventure that only provides a glimpse of the world Buckell's created. Some more, please.
3. THE ANDROID'S DREAM by John Scalzi – Straight, fun sci-fi adventures are hard to come by these days, and Scalzi has done an awesome job with this one, with great characters, plotting and dialogue wrapped up by a plot that always stays 10 steps ahead of the readers.
2. FIFTY DEGREES BELOW by Kim Stanley Robinson – There aren't any robots, ray guns or Martian colonists in Robinson's newest novels, but the combination of science and fiction, along with Robinson's previous works, put this and its predecessor (FORTY SIGNS OF RAIN) in the heart of sci-fi territory. It's amazing that such dense, character intensive prose can be this enthralling.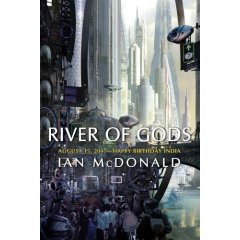 1. RIVER OF GODS by Ian McDonald – RIVER OF GODS defies labels. It's at once cyberpunk and post-cyberpunk, awash in the verbiage of globalization and emerging-markets uncertainty. As the story's huge cast of characters tumbles toward their individual destinies in tomorrow's India, it's hard to believe that McDonald doesn't have a time machine stored somewhere in his backyard, perhaps in a rusty tool shed or underground bunker. There are some big books that you know are mostly filler; others, such as RIVER OF GODS, could easily be twice their size and still be amazing. –Ryun Patterson