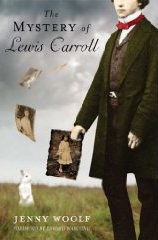 Like the recently passed J.D. Salinger, Lewis Carroll was an author who shunned publicity and sought privacy. While it may have made his life easier to live, all the secrecy can be damaging to one's reputation, especially if you're no longer around to defend yourself.
Carroll has had it harder than most, notably demonized as a pedophile. Long a fan since devouring his stories in her childhood, London journalist Jenny Woolf set out to find the truth — or as much that could be determined — in her biography of the legendary writer, THE MYSTERY OF LEWIS CARROLL: DISCOVERING THE WHIMSICAL, THOUGHTFUL, AND SOMETIMES LONELY MAN WHO CREATED ALICE IN WONDERLAND.
With 10 brothers and sisters, Carroll had no shortage of support throughout his years, right up to his death in 1898. But it's his non-familial relationships that, understandably, remain under society's microscope. Woolf finds that while many women were taken with Carroll's charm, it's likely that he died a virgin, as rumored, or at least found his limited sexual experiences so shameful, that he chose celibacy at great length.
Perhaps that's why his interest in young girls — we're talking not yet "age of consent" here — has set so many tongues a-wagging. Woolf spends a great deal of time discussing his interest in photography, particularly shooting friends' children scantily clad or even nude. While Woolf notes that this was normal for the times, the creepiness is tough to shake.
His most famous object of affection, of course, is Alice Liddell, for whom he wrote ALICE'S ADVENTURES IN WONDERLAND, and even that relationship became fractured, as Woolf investigates. What's more interesting are the Freudian analyses of ALICE she presents from others, such as the interpretation that a shrinking and growing Alice represented Carroll's erection, or that "going down the rabbit hole" was his thinly veiled desire to penetrate Liddell.
Even if not all of the mystique is solved, THE MYSTERY OF LEWIS CARROLL at least clears up some misconceptions, putting a mild spit-polish on the author's rep (as there's no evidence he diddled kids). I'd place Woolf's work on par with Rebecca Loncraine's recent L. Frank Baum bio, THE REAL WIZARD OF OZ: neither definitive nor mandatory, but certainly smart and stimulating enough. —Rod Lott