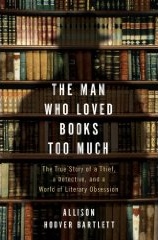 Among the many crime novels I've read this year, precious few have held a grip on me quite like the nonfiction tale of THE MAN WHO LOVED BOOKS TOO MUCH: THE TRUE STORY OF A THIEF, A DETECTIVE, AND A WORLD OF LITERARY OBSESSION. In addition, Allison Hoover Bartlett's book doubles as a first-rate piece of long-form journalism.
Her subjects are like players in the classic cat-and-mouse form. On one side stands Ken Sanders, a former hippie who earns a living as a dealer of rare books in Salt Lake City, and serves as security chair for the Antiquarian Booksellers' Association of America; his prey is John Gilkey, a collector of books who's ripped off many of the ABAA members through credit card numbers stolen from his job at Saks Fifth Avenue.
Gilkey's not interested in selling the books he "gets," but he's not interested in reading them, either. He's in it for the prestige he believes an impressive library will bring him. He wants a first edition of each of the Modern Library's list of 100 best novels of all time, but how's a guy like him supposed to fund a hobby like that? Simple: He doesn't.
Seemingly somewhat delusional, Gilkey explains how he feels his crimes are justified. But tell that to Sanders and his colleagues all across the country who had been bilked out of books worth thousands of dollars apiece. With a few fast-blast Internet alerts, word of mouth and some ingenious detective work, Sanders — aka "Bibliodick" — sets out to help the authorities trap Gilkey once and for all. The guy keeps getting arrested for passing bad checks, but keeps getting back out.
Although stealing books is nothing compared to offense of, say, murder or rape, Bartlett tells this story with as much passion, building to a palpable intensity. In between the chase, she delves deeper into what it means to be a collector, probing into the psychological aspect of being that driven, as well as detailing other literary heists with which Gilkey was uninvolved. In essence, her work is full of great stories about the swiping of great stories.
If there's a complaint to made about THE MAN WHO LOVES BOOKS TOO MUCH, it's that it lacks a proper ending. But that's because something tells me Gilkey's not through in his quest for hardcovers. Obviously intelligent but applying those smarts in the wrong way, he radiates a real deviousness that skirts the edges of evil. He's probably getting off about being the focus of a prestigious book. So will you, just for different reasons. —Rod Lott