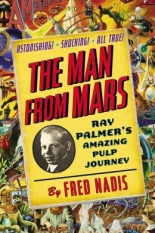 Ray Palmer was one giant character in a diminutive body. Exploding in energy and ideas, maligned for bringing pseudo-science to science fiction, he was a wonderfully contradictory person whose life covers a fantastic spectrum of American showmanship. 
You could, with a straight face, delineate paths from Palmer to Comic-Con and the widespread interest in paranormal research. He was a neglected and mostly forgotten key figure at many cultural junctures, and his work promoting sci-fi fandom and his deep interest (if not necessarily belief) in the supernatural, for better or worse, has shaped American pop culture in innumerable ways. 
Starting out as a sci-fi superfan, Palmer took over as the editor of pulp magazine AMAZING STORIES in 1937 and resurrected it from doldrums by the sheer power of his oddball ideas. A few years into his benevolent stewardship, he rescued from the dustbin a submission by one Richard Shaver, a clearly disturbed man, and focused and funneled the bizarre ideas of the author into a resonant mythology known as "The Shaver Mystery."
The mystery exploded the magazine's readership in 1943, and these "true" stories ran for the next five years. Many professional science fictioneers hated him for it, and eventually he was pushed out. 
But Palmer wasn't done, and he went on to launch FATE and MYSTIC magazines, promoting and publishing stories from the fringes of science and mysticism — sometimes successfully, sometimes not. 
Fred Nadis' nonfiction book THE MAN FROM MARS covers Palmer's life and ideas in an effortlessly readable way. It's a curious and vital subject, and the author is up to the task. Besides Palmer, I also like the sympathetic portrayal of Shaver, his stories and beliefs. Unlike some of the 1950s contactees — like George Adamski, whose works Nadis calls insane drivel — Shaver is given plenty of leeway. That doesn't mean Nadis believes his stories — far from it — but he allows for it to be experientially possible. He presents multiple points of view and lets the reader make their own conclusions.
By proxy, from his descriptions of Palmer's views on not just the Shaver Mystery, but of everything from flying saucers to astral travel and beyond, imply that the author shares some of his subject's curiosity.
However, much as I enjoyed the writing, the book as a physical object is a serious letdown. For such a luridly fantastic story, the layout is astoundingly boring. The photo selections are peculiar at best, and often of lousy quality. Shaver appears in two photographs, but same is also true of Bea Mahaffey (an editor who worked with Palmer), whose part in the book is totally inconsequential. A book like this requires proper presentation; it needs to jump off the page with garish colors, with reproductions of letters, paintings, photographs and illustrations. The cover art implies this, but soon as you crack open the pages, you're faced with a big flat disappointment. 
Of course, that shouldn't discourage you from picking up a copy. THE MAN FROM MARS is a fascinating story, superbly told. But you lose nothing getting a cheaper ebook version, or waiting for the paperback. 
It should also be mentioned that longtime Shaver chronicler Richard Toronto (of the irrepressible Shavertron website) has just come out with the first part of his magnum opus, WAR OVER LEMURIA: RICHARD SHAVER, RAY PALMER AND THE STRANGEST CHAPTER OF 1940S SCIENCE FICTION. I've not read it, but if a more in-depth look at Shaver is up your alley, it's certainly worth a look. The second volume is being prepared as I type this. —JT Lindroos