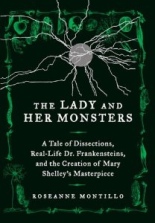 Even those who've never read Mary Shelley's FRANKENSTEIN know not only its story, but the story behind the story: the dark and stormy night on which the idea was born.
In the new-to-paperback THE LADY AND HER MONSTERS, Emerson College literature professor Roseanne Montillo backs up one level further, telling the story behind the story behind the story — in other words, the then-novel scientific advances that sparked Shelley's creative outlet. Without the work of these people, the modern prometheus might never have lived.
Thus, we are told the tales of the likes of Luigi Galvani, known for his electrifying work with frogs; of Humphry Davy, who experimented with nitrous oxide; of Andreas Vesalius, dissector and body snatcher. We learn of the peculiar culture of the era — a time of public hangings and carnival-season demonstrations at anatomy theaters.
And later, of course, we learn about Shelley's life and work. Okay, so "learn" may be too strong a word for this particular section, considering the wealth of other books on the subject (from 2006, Dorothy and Thomas Hoobler's THE MONSTERS is a really good one). But in all that comes before the author Montillo focuses on the author Shelley, there's much too absorb, and Montillo weaves these personalities together like cops do strings to pushpins when plotting crimes on a map.
She knows her stuff and has performed her due diligence, threading her real-life characters and situations into a sensible narrative. She just lacks the verve that would make the sentences sing. It's no-nonsense nonfiction — a somewhat dry take on moist material. I kept wondering what someone like Erik Larson might do with the same elements.
Still, Montillo is an economical writer, and THE LADY AND HER MONSTERS appears to have been designed in larger-than-usual type, so it can be read in about the same time it takes to watch a Frankenstein movie — maybe two, depending. It also boasts a glow-in-the-dark cover, so it can double as a night light in a pinch. —Rod Lott