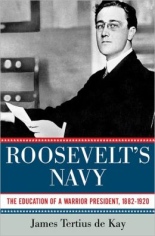 James Tertius de Kay's ROOSEVELT'S NAVY: THE EDUCATION OF A WARRIOR PRESIDENT, 1882-1920 is how popular history was written in the old days. It's a brief, confidently voiced, but thoroughly unsourced collection of facts and anecdotes to which the author gleefully ascribes cause and effects and emotional reactions of the future POTUS, much of which simply cannot be known without proper references to original sources.
That's not to say it's bad; in fact, I had a thoroughly entertaining day reading the book. It's just that it's not going to be the gold standard for the history of Franklin Delano Roosevelt's tenure as assistant secretary of the U.S. Navy, a post which he held for seven years from 1913 to 1920 (and which, for some reason, de Kay alternately capitalizes and lowercases throughout).
The author writes a fine story, briskly whisking us through Roosevelt's early days and his education at Groton, his love for naval strategies, and his affection for cousin Theodore Roosevelt — almost certainly FDR's inspiration to want to become assistant secretary of the Navy, a post Theodore once held. The book becomes most interesting during World War I, as the pacifist President Woodrow Wilson attempts to keep the United States out of the war, and men like FDR are insistent that the country at least must be prepared for battle. Striking accounts of the sinking of the Lusitania and the machinations of the Japanese around Magdalena Bay in Baja, Calif., are worth reading.
As other reviewers have pointed out, ROOSEVELT'S NAVY completely ignores the Newport sex scandal, a rather salacious affair where naval personnel in Newport, R.I., routinely met with civilians to engage in homosexual behavior. Roosevelt initially approved the investigation into the matter, but went on the defensive when the press began attacking the Navy for the way it handled the investigation. Eventually, Roosevelt and the Secretary of the Navy Josephus Daniels were both reprimanded by the Senate Committee on Naval Affairs. None of this is in de Kay's book — a rather remarkable omission since it so clearly concerns Roosevelt's role and history in his post.
With that caveat, casual history buffs and even some FDR specialists may appreciate the information contained in de Kay's account, especially some of the quotations from the president's papers. There is a useful further reading list included in the book, but the index is just barely adequate. Give it a try if you have an interest in FDR. —Mark Rose