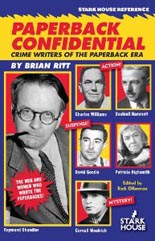 I'll break PAPERBACK CONFIDENTIAL down as simple as possible: It is awesome. Brian Ritt's massive undertaking needs to be commended. From Stark House Press, this is essentially a reference book for all you crime-loving paperback junkies out there.
The book breaks down every author who wrote crime novels in those halcyon days of paperback originals that you would see from a variety of publishers. Ritt has not only compiled the authors and their pseudonyms, but gives a nice rundown of their backgrounds and careers as writers.
All the authors of the glory days are in there, be they ones we all know — Raymond Chandler, Dashiell Hammett, Mickey Spillane, the infamous E. Howard Hunt — but also the more forgotten men, such as John B. West, whose work I'll be on the lookout for in my book hunts. This leads to the problem people are going to have when they get this book: You will need a notepad and a pencil to write down all the names and titles you'll want to explore.
As thorough as Ritt is, I've got a quibble or two, but nothing major. Ritt gives a list of their works, but not a complete rundown. I totally understand, though, because otherwise, this book would probably be an extra hundred pages.
Ritt also includes lists of characters series (thanks for that!) and the other books these guys wrote under other names. On that note: Included in the back is the aptly titled "Pseudodex," an index of pseudonyms. It's an easy, go-to source even though these names also appear on each of the authors' entries.
PAPERBACK CONFIDENTIAL is crime-centric, so don't get upset when you get to Lester Dent and find no DOC SAVAGE adventures listed. Stark House has put together what has to be reference book of the year. It's a loving testament to the books that I and so many others adore. But my wallet is going to hate it. —Bruce Grossman