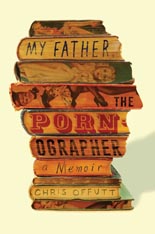 Crazy-family memoirs are a distinct genre and they can certainly be enjoyable such as Cameron Castle's MY MOTHER IS CRAZIER THAN YOUR MOTHER or perhaps the genre's pinnacle, the absolutely hilarious LET'S PRETEND THIS NEVER HAPPENED by Jenny Lawson. Well, Chris Offutt's MY FATHER, THE PORNOGRAPHER has the suitably quirky title (and a lovely book design by Keenan), and an extremely quirky central figure, Chris' father, Andrew J. Offutt, noted science fiction author and indeed prolific pornographer.
But it's not funny. It's not even charming. In fact, it has a melancholy tinge and some definite cringe-inducing moments that make one wonder about the sanity of the Offutt family. In short, it's a brutal expose of both father and son.
Father Andrew was apparently a strict disciplinarian with mercurial rules for how his children should be behaved. He was not emotionally supportive. He also claimed to be hiding caches of gold, money and precious jewels around the house so that when he died, the children should investigate and discover untold riches. These caches were nothing more than fake polished gemstones and a few handfuls of coins. Odd.
Oh. And the porn. Huge stashes of pornographic magazines, books and photos along with all the other cultural detritus of a writer's life erupt out of every corner, every shelf, every filing cabinet.
After the death of his father, Chris unearths his father's life, going through the house, cleaning and packing it up in preparation for the move of his mother to a different home, and for Offutt's papers to go off to a university. As he searches and discovers things in the house, he is also searching and discovering things about his relationship to his father. And things about himself.
The problem is that none of these things are witty, wry, enjoyable, intriguing, delightful or anything but grim and brutal. Even by the standards of the time, the Offutts, especially the father, seemed to thoroughly enjoy inflicting extreme psychic abuse on his eldest child (we learn very little of the siblings). The text isn't alleviated by any sustained literary criticism, and the near-useless bibliography at the end lists no publication histories but does provide the titles of all of Offutt's pornographic writings.
It's a deeply unpleasant book, a literary patricide of who seems to be a deeply unpleasant author. As biography, it will explain many things about Andrew J. Offutt, things I wish I hadn't known. —Mark Rose