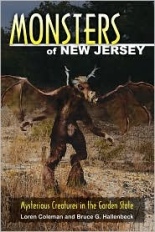 In those superstitious times of the early 20th century, the most reliable information you could get came by the game of "Telephone" — tall tales distorted by dedicated story spinners, bored housewives and layabouts out for a quick buck. It was often difficult to decipher the true nature of reality. Over a hundred years later, with all the information in the world at our fingertips, we still struggle.
When in 1906 one enterprising huckster imported a kangaroo from way down under, the common man, woman or ant had never even heard of such a peculiar creature, let alone seen one. When the ne'er-do-well attached bronze wings to the poor confused beast and painted its body with green stripes for effect, you could bet your kitten this was something mighty peculiar to see.
And if it's one thing to see such a fiendish critter behind bars in a sideshow, it's another to see an escaped specimen out in the wilderness, bouncing across the road, scaring your horse as it shadow boxes in the moonlight to rid itself of those cumbersome wings off its back.
There are numerous bizarre beasts that occupy the nether regions of the state of New Jersey. The Hoboken Monkey-Man, the Big Red Eye and the elusive Wooo-Wooo all follow far behind the grandaddy of the Garden State: the Jersey Devil. Whether you've been to a local pub named after it, listened to "The Boss" sing about it, or watched a bruising game of late-night hockey, you know the name.
MONSTERS OF NEW JERSEY: MYSTERIOUS CREATURES IN THE GARDEN STATE categorically gallops through the whole garden variety of "classic monsters" of New Jersey. This does not include the corrupt politicians, the cast of JERSEY SHORE or the guy who invented seedless watermelon, but sticks to the cryptid population that skulks mostly around the million-acre Pine Barrens. It does, however, point out the real estate scam that was at least a part of the Jersey Devil story in its infancy.
The book, authored by the legend that is Loren Coleman and his trusty sidekick, Bruce Hallenbeck, is lightweight and a bit sloppy in execution, but the stories it contains are priceless, told with an appropriate balance of dry humor and scientific detail. As an entertaining overview of a state littered with tall tales, myths and anomalous sightings, MONSTERS OF NEW JERSEY provides an excellent primer for the budding cryptozoo enthusiast.
Now, whether there is any truth to the stories is left for you to decide. But you should always remember when visiting those lonely roads, uninhabited pastures and vast inaccessible forests of Southern New Jersey, that there is much compelling data of a small population of large red-eyed primates hulking about. Our strange little planet was, is and forever will be far more mysterious than we give it credit for. —JT Lindroos