Vigilantes in skirts. Giant otters. Rape in a capsule. Poison in your pork. The racket in big bosoms. And at least one death orgy of the leopard women.
All of the above existed — if only on the covers of the male-skewing (and often female-skewering) pulps, whose reader-facing pages promised death-defying adventure and life-affirming virility. Now a mere memory of American publishing's past, these he-man magazines are the subject of IT'S A MAN WORLD: MEN'S ADVENTURE MAGAZINES, THE POSTWAR PULPS edited by Adam Parfrey.
If the title rings a bell of familiarity, it's because the book has existed since 2003, but now Feral House — the idiosyncratic indie firm Parfrey runs — has reissued IT'S A MAN WORLD in a rather welcome "expanded edition," featuring an all-new chapter. Titled "Manufactured the Enemy," it charts the evolution of the pulps' hand in the war-propaganda machine — one chock-full of racist cartoons and characterizations. As Parfrey notes, our nation's enemy may change, but hate-mongering approaches of the yesteryear still thrive and flourish today.
This new section is followed by Parfrey's actual introduction, in which he makes a ironclad case why such forgotten magazines as TOMCAT ("You'll PURR with PAGAN PLEASURE!") and SATAN ("Devilish Entertainment for Men") are worthy of study, "as they tell us so much about American working-class fears, desires and wet dreams of the early '50s through the early '70s."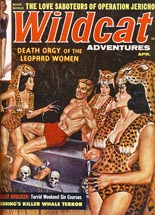 And how — just pick any cover at random! While one on its own is likely to support his theory, seeing so many at once in gorgeous, four-color spreads is an overflow of evidence and visual riches. The book divides what feels like thousands of covers and interior images into chapters such as U.S. history (far removed from your average Ken Burns PBS documentary), exotica (playing to readers' love of paradise destinations while preying upon their fears of the minorities who live there) and Nazi torture (to be clear, that's the Nazis doing the torturing, most often to beautiful, busty babes of the Caucasian persuasion).
While the scenes the mags depict likely wouldn't pass muster with 2015's average PTA member/soccer mom, there's no denying the true artistry at work in the highly detailed paintings of Norman Saunders and James Bama, respectively secure in pop-culture consciousness for the MARS ATTACKS trading cards and the DOC SAVAGE paperbacks.
The lurid art appeals to the eye; the equally lurid headlines, to other body parts. Witness such as hyperbolic come-ons and proclamations as these:
• "The Lesbian Explosion and What It Means to You"
• "Put a Flag Over Their Faces and They All Look Alike!"
• "Now — Surgery Cures Frigid Wives"
• "Attention U.S. Supreme Court: Is Jayne's Bust Legal?"
• "Spread-Eagled Atop an Ant Heap"
• "My God, My Guts Are Coming Out!"
Don't you feel your fingers tingling, ready to pounce and impulsively grab one from the newsstand to purchase? Full of vintage ads and after-the-fact interviews with those were there, IT'S A MAN WORLD more than ably illustrates through words and pictures why that was, for millions of males month after month, coast to coast. —Rod Lott