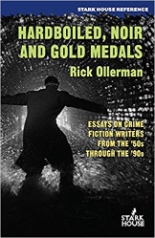 Why would you want to read HARDBOILED, NOIR AND GOLD MEDALS, the collection of essays and introductions by Rick Ollerman – a longtime contributor to the classic crime fiction republished fiction by Stark House Press? Several reasons, really. But mostly because Ollerman's knowledge and enthusiasm for the authors and styles he writes about shines through in ways that make these articles as entertaining as they are informative.
Then there is the structure of this collection. Ollerman could have simply assembled the various introductions he has provided over the years in chronological order. But Ollerman, a novelist as well as a critic, realized how dull this would be.
So instead he precedes and follows each of the republished introductions with personal essays about the leading styles of crime fiction, his insights into genre fiction in general, and how he himself became a devoted paperback collector.
This more personal touch – and indeed the tone of the entire collection — is aptly demonstrated with the opening essay, "How Harlan Ellison Ruined My Life." Here Ollerman recalls how Ellison's book of essays, AN EDGE IN MY VOICE, showed him how powerful words can be and how memorable essays are when they come from deep within the author's individual experiences or observations. There was no turning back from there.
The heart of the collection, of course, are the various introductions Ollerman provided for Stark House Press's ongoing series of republished crime fiction. In these Ollerman presents his admiration for such groundbreaking (but sadly little celebrated) authors such as Peter Rabe, Charles Williams, James Hadley Chase, and several others. Ollerman traces the biography of each author and discusses the development of their trademark style through their published works – often including several never republished. By the time we've finished reading these introductions we are not only more knowledgeable about the author but find our anticipation for the fiction that follows has significantly grown.
The new personal essays are where Ollerman discusses the evolution of contemporary American crime fiction – from the once numerous pulp magazines to the eventual dominance of the paperback originals and the heyday of such publishers as Gold Medal and Red Lion Books. Along the way Ollerman also treats us to his experiences, both joyful and exasperating, of being a paperback original collector; his warnings to those who show disrespect to any and all books; and how crime fiction has gained popularity beyond genre fans. And, as if all this weren't enough, Ollerman also provides one of the most effective (and succinct) definitions of noir and how it differs from "hard-boiled."
Perhaps the most touching of both the essays and introductions are the ones devoted to Ed Gorman. Gorman not only impressed Ollerman with the late author's many and varied fiction styles, but also first encouraged Ollerman to contribute the introductions that are now such an integral part of the republished collections.
Reading HARDBOILED, NOIR, AND GOLD MEDALS is like spending a "brandy and cigars" evening with a close, trusted and knowledgeable friend as he shares the fruits of his research and the many joys of reading crime fiction. It belongs on the shelf of every crime fiction fan – as both a valuable addition to and perhaps the cornerstone of their reference books.
One friendly caveat: Ollerman recalls that one of the unanticipated effects of editing the essay collection PAPERBACK CONFIDENTIAL for Stark House was that it sent him on an endless and costly search for first editions of the authors discussed. Readers of Ollerman's new collection will experience a similar hunger for the authors discussed. The good news, however, is that your search will not be as lengthy nor costly as Ollerman's. —Alan Cranis