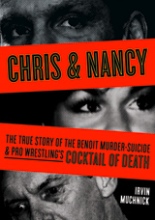 Chris Benoit was a pro wrestler who, one summer day in 2007, decided to murder his wife, Nancy, and their 7-year-old son, Daniel. He followed these horrible acts up by killing himself.
Why did he do it? Drugs? Concussions? Or did he just outright snap? And once he did it, how did the WWE handle it? Or the wrestling media? Or the mainstream media? And how did Congress deal with a wrestling industry that is heavily drug-fueled and almost certainly more worthy of scrutiny than baseball, whose drug issues are a drop in the bucket compared to wrestling's? These are the questions Irv Muchnick attempts to answer in CHRIS & NANCY: THE TRUE STORY OF THE BENOIT MURDER-SUICIDE & PRO WRESTLING'S COCKTAIL OF DEATH.
He does a great job of at least trying to get answers to questions that may be impossible to ever fully get to the bottom of. Muchnick has a long history of exposing the truth behind pro wrestling. In the late '80s, he wrote a series of articles for PENTHOUSE about subjects like the Von Erich family's history of drug use and suicides, and Jimmy "Superfly" Snuka allegedly killing his girlfriend, only to have WWE head Vince McMahon getting him off the hook.
So Muchnick clearly gives a crap about wrestling, and devoted a ton of work and research into this book and takes everyone involved to task, including Benoit himself (obviously), McMahon and the WWE (who apparently ran a tribute show to Benoit, knowing full well that he had just murdered his family), the Fayette County Sheriff's Department and District Attorney's Office, the wrestling media (for basically ignoring the story after a few weeks had passed) and, well, everyone involved in any way.
I think he spends too much time and space dealing with things that really don't matter — chief among them being the story of the so-called "Wikipedia Hacker," some kid who posted on Wikipedia about Nancy Benoit's death, one night before anyone else knew. At the time, I thought he was just an Internet troll who accidentally managed to be right about something, and the chapter devoted to him here did nothing to convince me otherwise. But I guess you can't criticize a guy for looking at a story from every possible angle.
What you can criticize Muchnick for, though, is the fact that at some points, the book can get pretty boring and tedious to read. Just because the information is relevant and important doesn't make it any more interesting to read. There's also less pro-wrestling dirt than I would have liked, as it's more of a true-crime book than a wrestling book, but that's more my fault as a reader than the author's.
While there's not a ton of what I'd call "dirt," it's still pretty fascinating to read how fucked up the story is. If you can get past the slow parts, CHRIS & NANCY is a great read for anyone who cares about wrestling or is interested in true crime. —Eric Lyden
Time is of the essence when it comes to getting a drug addicted friend or loved one into a drug rehab program, because delaying treatment raises the risks of more tragic results.