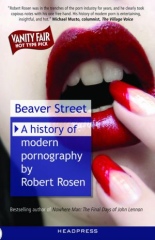 The hardcore porno world is one I find fascinating, even if I'm not among its consumers. It's partly a reason why BOOGIE NIGHTS is one of my all-time favorite films: Just what compels a person to go into this line of work? What runs through their head? Besides the rush of drugs, I mean.
Well, in BEAVER STREET, you get quite a speculum-wide glimpse. And not so much on the film side, which is well-documented elsewhere, but the comparatively unsung industry of wank mags. Before he became known for penning the acclaimed John Lennon bio NOWHERE MAN, Robert Rosen toiled for nearly two decades in printed smut. Hey, somebody has to write those cover lines that tease from behind the counter of your local convenience store — y'know, like, "I Suck, Therefore I Am!"
Yep, Rosen wrote those, and far filthier things I'll opt not to reprint — not so much because I aim to make this a squeaky-clean website (puh-leeze, it takes its name from an orgasm), but because I want you to read this Headpress paperback. It's fascinating — well, provided you're not the kind who turns red encountering a dirty word.
Its subtitle of A HISTORY OF MODERN PORNOGRAPHY is a tad misleading; it would be more apt to call it A HISTORY OF MODERN PORNOGRAPHY AS I SAW IT WHILE WORKING AT LOW-RENT RAGS LIKE HIGH SOCIETY, SWANK AND D-CUP. Luckily for the reader, there's a load of climactic events packed into his extended term of service, which began in 1983. It's not like he wanted to work in porn; like many a journalist, he just needed a job with a regular paycheck.
So while we do learn about his day-to-day life of, say, churning out captions he finds inconsequential, we also learn what it was like to be part of the industry during the explosion of phone sex … and also of AIDS, which not so ironically caused a huge increase in "readership" of the various periodicals and digests he helped throw together on tight budgets and tighter deadlines. You'll learn how the CEOs coped with the Internet; you'll learn about Marvel Comics' ties to porno mags. You'll learn a lot.
The book is only "about" Rosen when it absolutely needs to be: the chapter in which he recounts the time he let his curiosity get the best of him, and angled to be the male half of a photo shoot for pics that would accompany his story "The Five Dollar Blowjob." This also leads to a brief relationship with a full-fledged porn star.
Arguably one of the most famous is Traci Lords, of whom Rosen is no fan. The chapter on her becoming a household name — because of the U.S. Justice Department investigation into her performing in XXX movies while technically still a child — is one of the most interesting, even if the author turns part of it into a rant uncharacteristic from all that comes before it.
That's hardly a reason to let your enthusiasm for reading BEAVER STREET go flaccid. It's a really smart book on a really sleazy venture. —Rod Lott