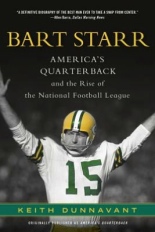 I hold nonfiction to a higher standard than fiction. Fiction's just bullshit; that's all it is. Sure, it often claims to lead readers to a greater truth, but how often in your own reading have you really felt that transcendence? Nonfiction at least purports to offer up "a" truth, biased it may or may not be, but nonfiction books have the duty to put forth their case in a winning and persuasive way.
It would have helped Keith Dunnavant's BART STARR: AMERICA'S QUARTERBACK AND THE RISE OF THE NATIONAL FOOTBALL LEAGUE if were better edited. It's "colossus," not "collosus," as seen on the first page of the first chapter, and eucalyptus plants give off a "pungent odor," not a "pungent order" just three pages later.
Nitpicking? Maybe.
But it makes you wonder how accurate the rest of the book will be (at least Starr's career stats are correct; I checked).
To be fair, I sent these errors via Twitter to St. Martin's Press, the parent of the Thomas Dunne imprint, and they rather charmingly replied, "Dully noted. :)" Now that's a great response. (For collectors, it should also be noted that this book was originally published in hardcover just last year under the title AMERICA'S QUARTERBACK.)
Dunnavant insists that Bart Starr may be the greatest NFL quarterback ever and he has come very close to persuading me that he is right. He is the only field general to have won five NFL championships (Otto Graham's seven championships included four in the AAFC). Starr has been one of the more underestimated NFL greats, at the same time serving as an icon with that tall, gangly, horsey look in his Green Bay Packers No. 15 jersey and his one-bar (sometimes two!) helmet. Fans know the Ice Bowl and how it looks on TV; Dunnavant's book will be the way we get to know him as a person.
Dunnavant does a great job of this, revealing the truly impeccable character of Starr and that of his wife, Cherry. At one point, the author seems a bit defensive and has to explain that yes, Starr really is this much of a goody two-shoes, that he really does care about troubled children, that he really does love his old teammates.
We're so used to "I, I, I" and sports heroes who believe that it is all about their own personal glory that it is unsettling to encounter someone so focused on team and sportsmanship. Starr's own self-effacement may easily have contributed to the media doting on coach Vince Lombardi and running backs Paul Hornung and Jim Taylor, forgetting that Starr was a passer with laser precision and completely unflappable under pressure.
The book does seem a bit bloated with constant and repetitive references to how this paragon of virtue lives his life. It gets to be a bit too much at times. And curiously, the years of football are blown through pretty quickly. We get blow-by-blow game accounts of only the most significant games, and even Super Bowl II is dispensed with in a page and a half.
Still, faults aside, this is an important book about one of the NFL's most important players ever. He, the Packers and Lombardi all helped make the NFL what it is today. Starr is an amazing man who achieved the highest pinnacle in the sport, and yet, is still an exemplary role model, someone you would want your child to emulate.
Dunnavant explains all that very well, and as such, it should be a book on every football fan's shelf, and a gift for every young football fan out there. —Mark Rose