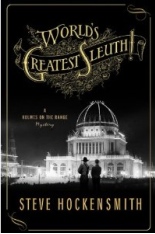 WORLD'S GREATEST SLEUTH! by Steve Hockensmith is the fifth entry in his "Holmes on the Range" series featuring the brotherly detective duo of "Old Red" and "Big Red" Amlingmeyer. Old Red is the Sherlock Holmes type who worships the Holmes character from the stories; Big Red is the John Watson of the two, and it is through his point of view that we read the story.
The brothers are contacted by their publisher and urged to attend the 1893 World's Columbian Exposition. A magazine and other interested parties have put up some serious money to host a detective competition to find out just who is the world's greatest sleuth. It is to be emceed by none other than William Pinkerton, head of the Pinkerton Detective Agency, who despises amateur detectives in no uncertain terms.
Each day, for four days, the detectives must hunt through the Exposition grounds to find a golden egg, with their only clues being a small bit of verse on a card. Things spin wildly out of control quickly, and the first day ends with the Puzzlemaster face down and dead in a vat of lukewarm cheddar cheese.
Thus begins a delightful madcap farce, crazy enough in its details to make one groan at the absurdity, but solid enough in plot and character to keep a reader guessing at the outcome. Thankfully, Hockensmith tones down the cornpone quality of the siblings. Only a fool would think these two men rubes, and with Big Red's amiable self-deprecation in narration and Old Red's brilliant cantankerousness, the two brothers come across as very likable, endearing main characters.
Surrounding characters may occasionally be overdrawn, such as fellow competitor Eugene Valmont, whose dialect is written in such a way that it is impossible to think of him without hearing David Suchet playing Hercule Poirot on TV. And while the Exposition grounds should serve as a good prop, they seem underutilized except for one memorable action scene.
Still, the series is fun and funny, with memorable characters who pay homage to the Holmesian world in an honorable way. You're bound to get a few chuckles from it while reading in your armchair, and you'll be wondering who the culprit was and just what the heck they're up to as you fly through the pages. It doesn't get much better than that. —Mark Rose