Quick takes and capsule reviews from the dark suspense master himself, Ed Gorman!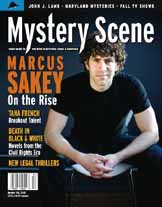 MYSTERY SCENE #106 has to be one of the two or three best issues of the magazine ever published. Art Taylor's article tracking crime novels written during the civil rights era is not only fine scholarship, but also a reminder of several novels that deserve to be read even now; Gary Phillips' piece on the black singing and screen star Herb Jeffries provides a complementary look at other popular culture in last century's history; Kevin Burton Smith reminds us that whether you like his work or not, Robert B. Parker has been the dominant influence on private eye fiction since the publication of his first novel (I wonder if there'd even be a private eye market if Parker hadn't come along); and I interview Donald E. Westlake, who talks at length about the history of the Richard Stark books. With Jon L. Breen on reference books, Dick Lochte on audio books and Ron Miller discussing TV shows (and all the regular columns and book reviewers), the new issue should be snapped up by mystery fans of every kind.
* * *
Strong December issues of both ELLERY QUEEN MYSTERY MAGAZINE and ALFRED HITCHCOCK MYSTERY MAGAZINE. QUEEN is packed with some of my favorite suspense writers, including Clark Howard, Melodie Johnson Howe, and Tom Tolnay. A special treat is a short story from Kevin Wignall who, to me, is one of the finest new crime writers in the world. With Jon L. Breen on books and Bill Crider on websites, this is a bargain as always.
In HITCHCOCK, the lead story "Guilt" by Gilbert M. Stack is one of the strongest stories I've read this year. And the other pieces, especially "Grave Trouble" by R.T. Lawton, remind us are why we read mystery and crime fiction in the first place. There's even an Agatha Christie short story that holds up very well and reminds us that she was high-concept long before that term came into fashion. 
* * *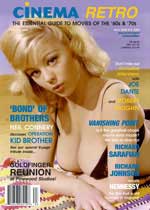 CINEMA RETRO #12 is the best issue yet of this fine magazine, with two major interviews with Robert Vaughan and Joe Dante. The Vaughan is especially interesting, on a life well-lived by a man intelligent enough to appreciate it, yet view it with a certain objectivity. The Dante interview is packed with memories of his long and successful run in Hollywood. Sean Connery's younger brother talks engagingly about the James Bond-ian knock-off he once acted in.
Other features focus on Pinewood Studios, GOLDFINGER, VANISHING POINT as an exemplary chase film, David McCallum and a stunning reprise of the films of 1971. To think that in a 12-month period, the following films were released:
• THE ANDERSON TAPES
• CARNAL KNOWLEDGE
• A CLOCKWORK ORANGE
• DIRTY HARRY
• FIDDLER ON THE ROOF
• THE FRENCH CONNECTION
• THE LAST PICTURE SHOW
• MACBETH
• MCCABE & MRS. MILLER
• SUMMER OF '42
• SUNDAY BLOODY SUNDAY
And each film is assessed with insightful commentary. What a great issue! —Ed Gorman