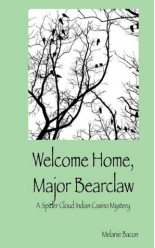 I don't often review independently published books because in general, a) nine times out of 10, they're crap, and b) well, maybe it's 9.5 times out of 10. But I was very pleasantly surprised by debut novelist Melanie Bacon's WELCOME HOME, MAJOR BEARCLAW, a novel set within the fictional world of the Spider Cloud Indian tribe.
The tribe, located near Minneapolis, sports a hugely popular casino that enables blooded tribe members to live on a healthy income. The current tribal leaders are attempting to decrease the blood percent necessary to enroll in the per-capita program, which is the way the casino money is distributed to various tribe members. Not everyone is happy about decreasing the percentage because the pot will be diffused.
There are other problems with the casino management. Julia, Major Ernie Bearclaw's wife, has proven that the significant employee turnover is the result of mismanagement and has caused the casino to lose tons of profits. Angered by this, the tribal leader insists that Julia convince her husband to agree to the diminished blood quantum resolution, or that her own children will never be enrolled.
And then Julia's report is leaked to the press. All hell breaks loose, and Ernie Bearclaw is found shot on the reservation grounds. He's alive but in a coma. Could this have anything to do with the resolution, and how will the tribal leaders withstand both an attempted murder and an allegation of mismanagement?
WELCOME HOME, MAJOR BEARCLAW is less of a mystery (we know who the culprit is right away) and more of a comedic novel of manners set within an intriguing backdrop of contemporary Indian life. The characters come to life and it's obvious the author has a lot of love and care for who they are as individuals. The somewhat bewildering array of elders and minor characters all seem like fertile ground for further installments in the series. You might want to get in on the ground floor and give this one a try. —Mark Rose