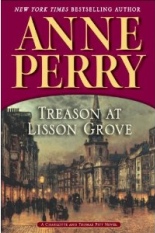 "Exciting" is the word I would use to describe Anne Perry's 26th (!) novel featuring Charlotte and Thomas Pitt, TREASON AT LISSON GROVE. It's a fast-paced Special Branch romp from beginning to end, from a foot chase of a suspected murderer and anarchist that leads from Britain to France, to the endgame where the monarchy itself is in danger of being toppled.
Head of Special Branch Victor Narraway is accused of embezzlement, and he heads to Ireland, accompanied by Charlotte Pitt, in order to clear his name. Meanwhile, Thomas is on assignment in France, and comes back only to find his wife and boss gone, Special Branch in complete disarray, and the threat of traitors having infiltrated the organization.
Perry has written a ton of books, and her practice shows with her swift and accurate descriptions of Victorian times and mores, her natural ear for dialogue, and her pacing, which is brisk, but not breathless. She's also excellent at providing just enough clues for the reader to begin to suspect something's a little awry, and then have it confirmed by one of her characters.
The historical mystery series featuring the Pitts is well-loved by many readers, and this late addition (its immediate predecessor was published in 2008) is sure to be welcomed. It's probably not the one I would start with if you're interested in learning more about the characters; why not start at the beginning? But the series should be on your "will read" list. —Mark Rose