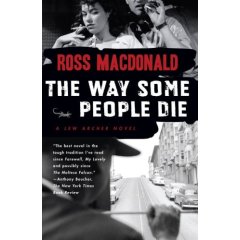 The fine folks over at Black Lizard/Vintage Crime are reissuing some of Ross Macdonald's harder-to-find titles, slapping a nice new coat of paint on some truly great noir. First and foremost, their covers are a huge improvement over the other Macdonald books they have put out … or maybe I'm just a sucker for black-and-white photos of girls smoking.
From 1951, THE WAY SOME PEOPLE DIE is the third of Macdonald's Lew Archer detective novels, and one of the more bloody ones, racking up a nice-sized body count by the end. What starts out as just a case of finding an adult daughter for a woman who won't let go turns into double-crosses and drug-running.
It seems the daughter, Galatea, aka Galle, has pretty much picked up her stakes from her apartment and run off with a seedy character named Joe Tarantine. He's a man of many schemes, be it running wrestling matches or being part of the chain for the local boss who wants Joe back dead or alive, and with his money and drugs.
Archer has his work cut out for him on this one, with more and more people being interested in finding Joe. Even when Archer gets some much-needed help, it's just to let Joe slip away. This leads to a sordid world of smack addicts, where Macdonald totally shows the evils of drug use to great effect. At the time, it probably was frightening to most readers, who never knew these types of things were going on. But looked upon now, it seems tame when you have shows like THE WIRE.
But besides the little morality angle Macdonald throws in, it's more about finding the girl, which comes easy for Archer. Then it's the search for Joe and what he ran off with that becomes more important. Throughout the novel, Archer comes up against other people in this drugged underbelly – most on the supplying end and one of the users who just needs one more fix.
How is this all tied to Joe? Macdonald will keep the reader on the edge the whole time. When you reach the climax, you're still not sure until Archer makes it clear he's figured it all out, with certain characters not believing the truth even if it's staring them in the face.
Get ready, Macdonald fans, because this is the first of five more reissues scheduled. I, for one, could not be happier with the bang-up job they are doing. –Bruce Grossman
OTHER BOOKGASM REVIEWS OF THIS AUTHOR:
• THE ARCHER FILES by Ross Macdonald
• BLACK MONEY by Ross Macdonald