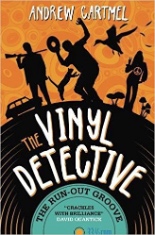 In The Vinyl Detective series, author Andrew Cartmel has a wonderful premise. His nameless character (he is referred to as The Vinyl Detective by others and the books are written from a first-person point of view) collects rare records and is an expert at finding them.
The first book in the series, WRITTEN IN DEAD WAX, had our hero search for a rare record that a wealthy client desired. The second book, THE RUN-OUT GROOVE, concerns a fictional 1960s rock band named Valerian.
Popular in its own time, the band's lead female singer, Valerie Anne Drummond, had a child who was abducted and has been missing all these years. The singer committed suicide, supposedly distraught at her missing child. Now, a mysterious couple, one of them being the singer's brother and the other a writer trying to write a biography of Valerian, have come to The Vinyl Detective for help. They want him to find out what happened to the child. They also want him to find a record. Released at the time of the abduction, one of Valerian's 45rpm singles supposedly has a recorded message in the run-out groove (the wider band of vinyl at the center of the record) that when played backwards, contains hints about what happened.
The record company, after the suicide of Valerian, pulled the 45 record from the shelves and destroyed them. Some people claim to have one of the few survivors, but every recording of the record stored online has a different ending. Only one of them can be real and no one knows which one. The Vinyl Detective is on the case.
But it's a cold case and he has trouble getting leads. The band's old publicist is willing to help. He has lots of information, some of it that no one knows and he's more than willing to be interviewed. Until he is murdered the next day. Ruh-roh.
Cartmel has a smooth and breezy style that flows nicely with the madcap antics of his characters. Sometimes the plot rushes along a little too quickly, and there are a few loose ends not quite tied up, but the brisk pace and fun factor of the plot make THE RUN-OUT GROOVE an enjoyable read. It's often funny, with believable characters (even the out-there collector characters are very believable – if you've ever been into scoring rare vinyl, you'll know what I mean).
I look forward to more entries in the series. It's a fun, light mystery series that has a unique theme, decent characterizations, and strong dialogue. Perfect summer reading. —Mark Rose