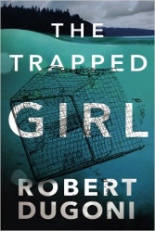 I had never come across Robert Dugoni's mystery series featuring Seattle Detective Tracy Crosswhite, but I will now actively look for them. There are four full-length novels starting with MY SISTER'S GRAVE, HER FINAL BREATH, IN THE CLEARING and culminating with the book under review, THE TRAPPED GIRL.
He also has a five-book series starring Attorney David Sloane and a couple of one-offs including a non-fiction book. If they are anything like THE TRAPPED GIRL, then all his books will be eminently readable and exciting.
There is more than one girl who is trapped in this latest book. While out on the water illegally crabbing, a local fisherman snags another pot, brings it onto his boat and discovers the body of a dead woman inside. Crosswhite and her team begin the investigation, and through some nifty police work, discover the woman's identity to be … someone who went missing and apparently died while climbing Mount Rainier years ago. Uh-oh.
The investigation reveals that the mystery woman led a sad and desperate life, trapped in a bad marriage. Interstitial chapters tell the story from the woman's point of view, emphasizing how her tricky financial and relationship situation is closing in around her. Did she fake her own death on the mountain only to end up shot in the head inside a crab pot?
The author's grasp of the police procedural is profound, and he really nails the Seattle area in his descriptions (I've lived in the area for nearly thirty years). Dialogue is brisk and realistic, characters have depth and feelings, and the depiction of Crosswhite and her team, both on and off the job, make for a lively and dynamic cast of characters.
THE TRAPPED GIRL is excellent in every way, even when dealing with a somewhat complicated storyline. Definitely recommended. —Mark Rose