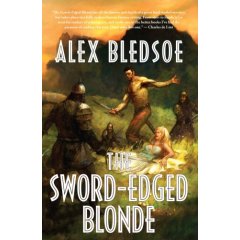 Certainly, there are other examples of private investigators set in the medieval fantasy world of sword and sorcery, but Alex Bledsoe's THE SWORD-EDGED BLONDE has a marvelous quirkiness to it – a naturalness about it that feels right even though the story and the character go a wee bit beyond convention.
That kind of tale is the hallmark of San Francisco publisher Night Shade Books, always doing something just a half-tick off the ordinary. Sometimes it works, sometimes it feels strained. But it works remarkably well in Bledsoe's case.
Eddie LaCrosse is a "sword jockey," a battle-scarred veteran for hire – quick with his mind, the soul of discretion, tough as nails, film noir meets "Dungeons & Dragons." LaCrosse may seem down on his luck, but part of that's by choice.
He has some friends in high places, and it is one of these who now needs him the most: an old boyhood friend elevated to the throne as king, has lost his one and only son. His queen is blamed for the brutal death of the boy, and with feeling running high, LaCrosse is hired to determine if the queen really did kill the heir.
Fair enough and straightforward. But the investigation reopens some very deep wounds in LaCrosse's soul – wounds that must be bled out before they can be healed. When LaCrosse recognizes the queen as a friend from years ago, but she herself seems to have no memory of her prior existence, things begin to get sticky. Bledsoe handles all this emotional baggage well, couples it with a nice turn of naturalistic dialogue, and constructs a pretty darn fair and interesting mystery fantasy story around the whole thing.
This is the kind of debut novel that not only can, but should, develop into a long series. Briskly paced at a manageable length, set in an intriguing world that is not too outlandish by fantasy standards, featuring a likable character that has plenty of room for growth, start with this book and let's all await the next installment.
Let's just hope its title isn't as ridiculous as this one; I still don't understand what it means. No matter; this novel is thoroughly enjoyable. –Mark Rose