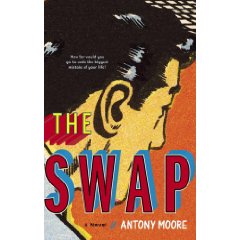 With its Roy Lichtenstein-inspired cover illustration and graphic title design, Antony Moore's THE SWAP looks promising. And the back cover synopsis makes it sound like a Donald E. Westlake-like comedic romp of murder, misunderstandings and related mishaps in the world of comic book dealers and readers. Would that it were! Sadly, this debut novel is a clumsy, ill-conceived work that never really delivers on any such promises.
Back in 1982, while still in school in his native Cornwall, Harvey Briscow makes a strange overture to fellow student Charles "Bleeder" Odd — the sad-sack target of bullying and ridicule by everyone, including Harvey. But one afternoon, Harvey offers to console Bleeder by offering a swap: He'll trade his issue of SUPERMAN ONE (SUPERMAN #1, we presume) for that silly piece of plastic tubing Bleeder is carrying. Reluctantly, Bleeder agrees to the trade.
Flash-forward to the present day. Harvey is now the owner of Inaction Comix shop in London. But while's he's managed to turn his childhood fascination into a business, it's proven to be a dead-end life, distracted occasionally by booze, cigarettes, fast food and the infrequent customer. But hardly a day goes by when Harvey doesn't recall how much richer he might be if had he kept that now rare and valuable SUPERMAN ONE. Soon he learns about his approaching 20-year school reunion. As much as he dreads visiting his parents back in Cornwall, there's still a chance that ol' Bleeder Odd will be there. And maybe Harvey can get his valuable comic back.
So Harvey makes the journey and, not surprisingly, discovers that Bleeder is now a well-dressed, successful city financier. When Harvey gets a chance to bring up the long-ago swap, Bleeder has only a faint recollection of the comic book. Perhaps it's in one of the many boxes packed as he prepares to move his elderly mother out of their house and into a care facility. Later, Harvey breaks into the Odd house, and not only finds the comic, but also Bleeder's mom, dead from a knife wound to the neck.
Harvey flees the scenes, but then returns to clean away any trace of his break-in and leaves the comic where he found it. Days later, however, as the murder is discovered and a local investigation begins, Harvey is shocked when he receives the SUPERMAN ONE in the mail at his shop, complete with its now blood-stained plastic protective envelope.
Right from the start, it's difficult to accept Moore's concept that any kid seriously into comic books would be as ignorant of the value of a SUPERMAN ONE as Harvey seems. If there was something more important at stake than simply smoothing over hurt feelings — like the hiding of some terrible deed or keeping some shocking discovery secret — this idea might work. As is, it's a weak foundation to an even weaker house.
But what works against the novel most is Moore's maddeningly elliptical prose style. He seems to take forever to get a point across. As a result, all attempts at humor — be they bone-dry or over-the-top — are completely lost in verbiage. The same goes for most plot developments, including the relationship that results when the wife of one Harvey's schoolmates leaves her husband during a post-reunion party and takes up with Harvey. Then there's the murder investigation, which ought to add suspense, but instead reads like a distraction. And, as if all this weren't disappointing enough, the novel doesn't end so much as it simply … stops.
Harvey himself is another serious problem. For someone whose livelihood is comics and pop culture, Harvey seems totally uninterested in the subject. Most references to comics, science fiction or popular movies are made via the third-person narrative perspective. Indeed, Harvey's assistant shop manager, Josh, is more willing to argue the value of WONDER WOMAN vs. VAMPIRELLA than Harvey.
If Moore truly yearns to create dark comedies of crime, he'd do well to bone up on the works of Westlake, Elmore Leonard, Carl Hiaasen and several like-minded authors on his side of the Atlantic. And he should spend more time observing those hanging out at comic book shops or studying the films of Kevin Smith before taking on the world of comic fans and followers again.
Otherwise, he's holding himself up to ridicule the likes of which he never dreamed of afflicting on Bleeder Odd. —Alan Cranis