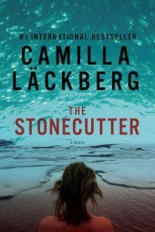 If the first tier of Scandinavian detective fiction features quality writers such as Yrsa Sigurdardóttir and Karin Fossum, then the second tier is ably represented by authors such as Åke Edwardson and Camilla Läckberg. It's competent, quality storytelling that you enjoy reading — it just probably won't blow you away.
Läckberg's third novel, THE STONECUTTER, originally published in Swedish in 2005, features the police detectives of small-town Fjällbacka and its leading investigator, Patrik Hedstrom. He and Erica Falck have a young daughter, Maja, and are horrified to discover that their friend's 7-year-old daughter has been found drowned in the sea. After a few more pages, everyone is even more horrified to discover the girl was murdered.
Läckberg intertwines several stories, including one set in the 1920s that involves the titular stonecutter, and is adept at showcasing the emotions of the multitude of her characters. Falck's sister, Anna, is still trapped in an abusive relationship. The murdered girl's grandmother is trapped in a serious, never-ending row with her arrogant neighbor over property rights, and even the death of her grandchild cannot stop the petty bickering. Hedstrom is trapped working with people who are noticeably less competent than he, and it's hurting the activities of the police.
But as the investigation proceeds, it gets even more dangerous. An unknown assailant attacks a baby in a pram and stuffs ashes down the infant's throat. And then Erica and Patrik's baby goes missing, only to be found covered in ash, on their own front doorstep.
This boiling cauldron of emotional intensity and unimaginable, intimate cruelty explodes as Hedstrom and his team unravel the mystery behind the murder of the little girl and a lot of other secrets besides. The author manages to convey the feelings of post-partum depression, the frustration at dealing with a child with Asperger's syndrome, and the truly complicated interactions between her characters quite well. The plot is carefully crafted and the villain is difficult to discern until the last few chapters.
While the police procedural aspect of her work is the strongest, what prevents Läckberg from entering that top tier is the few over-the-top elements that creep into the story. The tale from the 1920s beggars belief in its casual cruelty; one of the cops at the Fjällbacka police station is phenomenally inept; and it's that lack of subtlety — along with the padded descriptive paragraphs and the incomprehensible matter about programming computer games — that can tend to bog one down.
Still, second tier in the genre of Nordic noir is a few ranks above most other mystery writers. If you like that intense, midnight-sun level of mystery, Läckberg may not be a revelation, but she will provide you with an entertaining read. —Mark Rose