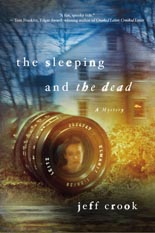 Jeff Crook's THE SLEEPING AND THE DEAD is a thoroughly enjoyable contemporary mystery that mixes in a bit of the paranormal with an ex-junkie/ex-cop female protagonist who can be as hard and cold as ice, but also warm and emotional, especially in the strained interactions with her parents.
It falls short of brilliance, primarily because the ending is too rushed, too forced and perhaps a little too unexpected, but overall, it's a fun book — one which I doubt can spark a series, but nonetheless worth a read.
Jackie Lyons is the ex-cop who has fallen on hard times, and is trying to give up a heroin addiction, going to Narcotics Anonymous and still keeping a hand in with her professional photography. She visits crime scenes, takes freelance photos and somehow sells them both to the police (unlikely) and death fetishists (creepy, but slightly less unlikely). (By the way, this novel is filled with details about professional photography and cameras which should appeal to a certain subset of readers.)
Jackie has been taking photos of crime scenes left by the Playhouse Killer, a serial murderer who targets gay men then hideously kills them, setting up tableaux reminiscent of scenes from certain plays. As she develops the photographs with the help of a friend, they believe they can see shadows of the killer hidden in the background of certain scenes. Some of this knowledge is complicated by Jackie's second sight. She can see dead people, but can't necessarily tell if they're dead, unless she looks at them through the viewfinder of her camera.
While the mystery is a good one, the investigatory parts of the book take second place to the set of Jackie's mental and emotional problems. To complicate this, she embarks on a relationship with a man who is selling her a pro-level camera. But it turns out the man may have killed his own wife — or at least the police think so.
The author melds elements of the paranormal with the criminal investigation well. He also treats his main character with lots of respect, counterbalanced by the character's own self-loathing at her destructive and addictive behavior.
In the end, even though we see dead people everywhere and the serial killer is really over-the-top in even the most theatrical of manners, the main characters are realistic enough to drive the plot. It's a decent read, and Crook can definitely improve after this debut mystery. I'd certainly read another one of his works. —Mark Rose