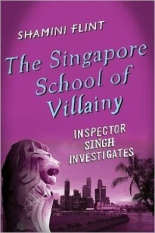 Shamini Flint's series featuring Singaporean detective Inspector Singh is an absolute joy to read. The first two chapters of the third installment, THE SINGAPORE SCHOOL OF VILLAINY: INSPECTOR SINGH INVESTIGATES, showcases exactly why.
In a few short pages, Flint clearly describes the hectic and exotic setting of the country and quickly outlines all the important characters in the case: not just Inspector Singh, but the redoubtable Mrs. Singh; a distant relative for whom Mrs. Singh is matchmaking; and a couple of key members of the Hutchinson & Rice law firm, where evil is about to be done.
It's remarkable, because Flint doesn't waste time smashing you into the story, and her plotting is tight enough that the reader suffers little confusion and instead can just enjoy the tale.
Senior partner Mark Thompson of the aforementioned law firm has called a meeting of all the partners. Yet, when they get there, they find that he has been bludgeoned to death at his desk. Singh is confronted by a number of suspects, all of them partners, and one of whom happens to be the distant relative that was scheduled to eat dinner with the Singhs that very night.
You know that suspecting him for the murder will not please Mrs. Singh. The problem is those who have motive, such as Thompson's ex-wife, seem to have alibis, and those who don't have alibis have no motive.
Inspector Singh eventually unravels this due to his profound knowledge of human nature, but not without a few very painful mistakes made along the way. He's also combating Superintendent Chen, who needs the crime solved quickly, and isn't afraid to pin the crime on some random stranger instead of a powerful lawyer.
The Inspector Singh series really is a success: well-written, great characters, intriguing stories, a colorful Singaporean setting and a charming thread of humor that is ever-present and handled with just the right amount of taste. Definitely recommended. —Mark Rose