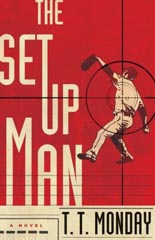 THE SETUP MAN is the first book in a potential series starring Major League relief pitcher Johnny Adcock. Written by T.T. Monday (obviously a pseudonym; the copyright is assigned to one Nick Taylor) in the first person, this relatively brief tale is very good at setting up (sorry) the scene and action.
Adcock isn't a busy man, even by relief-pitching standards. He's the guy who comes in and pitches to one, maybe two, hitters before the closer comes out. This gives him a lot of time to think. And when he's on the road, there's still a lot of down time for the players. So on the side he undertakes little detecting gigs, mostly following players' wives to see if they're cheating, that sort of thing.
The players like his ability and his discretion, but management and agents aren't very happy if he reveals the darker side of baseball. When backup catcher Frankie Herrera tells Adcock that he's received a strange mail on his phone and wants him to investigate, baseball management and agents would be upset indeed.
It seems that in the past, Herrera's wife acted in porn movies. Herrera paid a lot of money to the photographer to bury the negatives. But now, that same video has been sent to him but without a demand for money or any other message. Hmmm …
It gets worse: The very next night, Herrera is found dead in a car accident.
The action is brisk and furious, the dialogue realistic, the humor light and wry, but the plot, frankly, gets a little out of control. What seemed at first just a research job to see who had sent the link to the video, ends up in multiple deaths, a bizarre human trafficking scheme and unbelievable behaviors on the part of certain characters.
Still, there's plenty to like here. The main characters have intrigue; the relationship between Adcock and venture capitalist Bethany Pham is fun; and the whole baseball background lends a nice touch to what could be a continuing series. If you like the sport and mysteries, you might want to give this a try. —Mark Rose