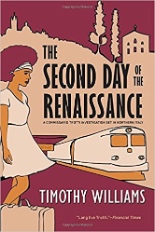 Timothy Williams' sixth novel featuring Commissario Piero Trotti, now retired, is titled THE SECOND DAY OF THE RENAISSANCE and it may prove to be the end of the dour and crotchety Trotti. An old friend warns him that his life is in grave danger. Someone from his past is sworn to kill him, and there's little the authorities can do.
At times, and this matches perfectly with his normally sour attitude, Trotti almost welcomes death, "the peace of the senses" as he calls it. But when death does rear its ugly head, Trotti, like almost everyone else, still opts for survival.

While the killer stalks Trotti, Trotti falls in with a beautiful young African-American woman, who attempts to enlist him in her search for the real killer of one Valerio Gracchi. Gracchi was a dangerous journalist, one who often spoke out against the Mafia and powerful political forces, so his murder years ago wasn't much of a surprise. Almost against his will, Trotti is drawn into the case, even while facing danger from an unknown killer.

Williams has a bizarre style not matched by other writers. He pumps out super-short chapters that are almost entirely filled with dialogue. And while the dialogue is usually realistic, that also means key points in plot progression are sometimes elided or only vaguely hinted at, leaving the reader to wonder as he reads the next chapter, "Wait, what just happened? Did I miss something?"

If you're the kind of reader who needs everything laid out in front of him in a clear-cut no-nonsense manner, Timothy Williams and Piero Trotti are not for you. If you can handle a little ambiguity, numerous time shifts (sometimes in a separate chapter, sometimes as parentheticals within a chapter), and a willingness to wait for the details to become apparent, then it's not bad. The Italian setting is set with skill, the style is unusual enough to be of interest, but the characters are not so thoroughly drawn and the plot of this particular work is a little thin.

That sounds like I'm on the fence and it's true. Can't recommend it entirely, can't really say it's no good, either. Personally, while I like the stylistic trick of dialogue-heavy chapters, the underformed characters (Trotti is really the only one who gets any serious attention) left me a little cold. It may be worth a try for you if none of this hasn't already scared you off. —Mark Rose