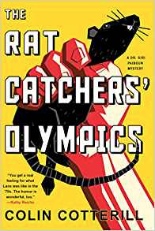 I generally love Colin Cotterill and his various mystery series set in Southeast Asia. Both his Jimm Juree and Dr. Siri Paiboun series are delightfully funny, and rather strongly plotted. The Paiboun series extends into the world of the supernatural but it's on a more spiritual, and less haunting, level. For instance, the good Doctor often physically disappears from Earth, visiting some ethereal otherworldly realm where he is guided (or, if the Doctor were to be consulted, obstructed) by the enigmatic Auntie Bpoo, who torments Siri with her mischievous antics and confusing advice.
THE RAT CATCHERS' OLYMPICS is the 12th installment in the Dr. Siri Paiboun series and it has a fascinating setting: the 1980 Moscow Olympics.
This is the Olympics that the United States boycotted and so, to encourage attendance, Russia sends out invitations to Socialist countries and Laos gets to attend their first-ever Olympics (that part is true, by the way). Dr. Siri Paiboun, his wife Daeng, and a small troop of Laotians accompany the few Olympians to Moscow but trouble starts right away.
Laos is fielding a team in one of the shooting competitions but one of the athletes is changed at the last minute, and no one knows why. While the Olympics proceed, Inspector Phosy at home in Laos, tries to research the identity of the new shooter but while questioning an old gentleman, the man is shot by a sniper and killed. Soon, Phosy is contacted by a very prominent individual whose son is living in Moscow and who is in danger. No harm must come to him. When harm does come to him, it will be Phosy's fault, so Paiboun and his group in Moscow must endeavor to find this agitator.
It's all riotously confusing and good naturedly charming. Cotterill takes great pains to show his love for his Laotian characters, even when they are at their most self-deprecating. Some readers may find it a little irritating that he portrays the Lao as less fortunate than say, the Vietnamese, and social justice warriors may complain of cultural appropriation (a term I despise). I had to admit to cringing once or twice and wondering if he makes his characters too cornball (kind of a Laotian Beverly Hillbillies) but the story is intriguing and reasonable, dialogue witty and realistic, the setting and the details are fascinating (especially for an Olympics that most Americans saw very little part of) and the overall effect is decidedly entertaining.
Cotterill is prolific. The Paiboun series started in 2004 and is up to 12 books, Jimm Juree appears in four titles, and he has six other books as well. For those who love Southeast Asia, this author would be a fine one to collect before his earlier books become too expensive or difficult to find. —Mark Rose