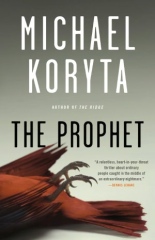 After flirting with near-supernatural elements in his last few novels, Michael Koryta's THE PROPHET returns to the more traditional crime fiction that established his continually noteworthy and highly praised career. This newest work vividly demonstrates his formidable skills at character depiction, along with creative but credible plots, in a tale of two brothers.
Kent Austin is the popular coach of the high school football team in the small Midwestern town of Chambers, Ohio, and after many struggling seasons, his team finally has a chance to clinch the state championship. His brother, Adam, used to be a football star himself back in the day; today, however, he scrapes by as a bail bondsman.
Several years ago, their younger sister, Marie, was abducted on her way home from school and brutally murdered. Her death drove a wedge between Kent and Adam, and the two brothers haven't spoken to each other since.
 
Shortly after the novel begins, a local girl is found dead in an abandoned house near the outskirts of town. Her death has ties to both Adam and Kent. Suddenly, the brothers become involved in each other's lives again as the murderer eludes the local police and eventually threatens both siblings, as well as their families and loved-ones.
 
Following a somewhat elusive prologue, Koryta quickly involves us in the lives and daily events of both Austin men. As different and unrelated as Kent and Adam seem, the ghost of their dead sister is an inescapable link that connects their fleeting thoughts about each other. Both soon feel responsible for the local girl's death, but the similarities to the murder of Marie — and the lingering feelings of guilt and regret — drive them to seek justice and, if necessary, vengeance.
 
Koryta progressively reveals both major characters as the current events unfold. Rather than long, interruptive backstory passages detracting from the main storyline, we come to know Adam and Kent as the recent upheaval reminds them of their previous lives. This helps sustain the narrative pace, along with the tension that starts with a slow boil and eventually builds to near-overflow.
Taken together with the unexpected but altogether convincing connections between the murdered girl and the two brothers, the novel becomes an intensely character-driven story with all the earmarks of a superior thriller.
 
The only weakness in the midst of all this is the author's overindulgence in Kent's football-play strategy. Clearly, the games bringing Kent's team closer to the championship are the only thing keeping him from obsessing on the recent murder, as well as worrying about his impulsive brother. Too often, however, these interior thoughts and discussions become overly technical and esoteric, leaving those less-than-passionate-football-fan readers out in the cold. At one point, it almost feels like Koryta tries to even the balance with a history of the bail bonds system in the U.S., but this is quickly abandoned after a few passages. This imbalance and the sport-jargon confusion are forgotten as the events of the Austins intensify.
 
With its familiar setting and situations, along with the equally relatable themes of family, guilt, redemption and forgiveness, THE PROPHET might be the novel that brings Koryta to the attention of a much wider readership. Regardless, it is a masterfully written work that no admirer of well-crafted crime fiction should miss. —Alan Cranis