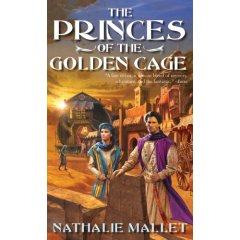 Okay, so it doesn't look promising. The very apt cover looks straight off a bodice-ripper; the text is filled with flowery, purple descriptions of lush jewels and fabric; and the back cover states it's an "amazing mix of romance, mystery, and occult adventure." What have I gotten myself into now?
Well, actually, a pretty darn good read. THE PRINCES OF THE GOLDEN CAGE from Nathalie Mallet and Night Shade Books may not be your normal fantasy cup of tea, but it has an intriguing concept, and enough going on with its characters that you might look forward to a sequel.
The princes in question are all the sons of their father, the Sultan, and there are literally hundreds of these boys all living in the Cage. While their appointments are pleasant, they are kept together almost as a controlled experiment. Brother plots against brother in order to move up the ranking list, with the top son becoming the Sultan when their father dies.
Brothers are quick to take offense, and then they duel to the death to avenge their honor. Winners move up the list; losers, well, die. Some brothers are interested in the court intrigues; others – like our hero Prince Amir – would prefer to keep their heads down and instead study books and gain knowledge in the hope of eventually gaining their freedom from the Cage.
But then, princes start dying in unapproved ways. Some say it's magic; others say it's poison. Regardless, Prince Amir wants to get to the bottom of it, not least because he doesn't want to die by this unseen hand, either.
If you have a taste for a bit of mystery mixed with your fantasy, this is a fairly enjoyable book with likable characters, especially in the developing relationship between Amir and Erik. The conceit of the brothers all vying for the favor of the Sultan, and battling their brethren to do so is strong. Mallet's power of description is overwrought, but the palace intrigue makes up for some of this. We might have found a new fantasy author to read. —Mark Rose