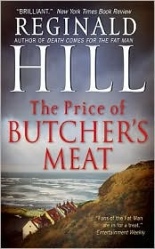 Reginald Hill has a unique and witty style that has served him well through 24 (24!) Dalziel and Pascoe mysteries. And that's just the main series. He also has the Joe Sixsmith series going, and numerous other novels, both under his own name and pseudonyms. So what makes the Dalziel (the name is pronounced, distractingly, as Dee Ell) and Pascoe series worth reading?
The characters, who extend from book to book, are larger than life, infuriating, impossible, charming, lovable and off the rails, sometimes not just in the same character, but within the same paragraph. Detective Superintendent Andy Dalziel, a huge mountain of a Yorkshire man, is hard-edged and nasty, with a mouth that would make sailors blush, someone who's brutally honest when it's more fun to be brutal than honest.
Chief Inspector Peter Pascoe is the thin and proper English cop, doing things the right way when the wrong way would get results quicker, but living, working and flourishing within Dalziel's malformed world of justice. The interplay between these two is what has made the series last so long. But it's also Hill's fearless writing.
THE PRICE OF BUTCHER'S MEAT is probably not the first book of his you should read. For one, it starts off with more than 150 pages alternating between a young woman's e-mails to her sister, and Dalziel speaking into a microrecorder unhelpfully transliterated into italics. It sets the background remarkably well, but it can be frustrating reading. It is only when the main players become connected in the second half that the story really takes off. But once it does take off, you are permanently seated for the rest of the ride.
In the previous tale, DEATH COMES FOR THE FAT MAN, Dalziel was almost blown to bits by a terrorist bomb. In order to recuperate both body and mind, he visits a convalescent home in Sandytown, an odd little resort area attempting to make a name for itself as an alternative health center. It takes quite some time for him to be even ambulatory, but once he manages to get down to the pub for a pint or two, he starts to see the undercurrents of the town.
For one thing, old friend Franny Roote is on hand, rather remarkably. And while Dalziel is wondering how much he can trust Roote, the deaths slowly mount. Most noticeably, the lady of the manor is killed and placed in a pig barbecuing basket, slowly being roasted to eternity. That's a nasty bit of business which brings Pascoe to town, and both men dance around each other trying to determine whose turf is whose, and how each of them can save face and eventually work with each other going forward.
The entire cast of characters comes under suspicion, for various things, during at least one point in the tale, and the reader can never be sure of the footing for motives and opportunities — in essence, a perfect traditional English whodunit.
If you're not into the series, it will take a while for you to be hooked. So I would definitely recommend starting at the beginning — why not? — and work your way forward, because Hill is very rewarding. He never, and I mean never, writes down to the reader. He is adept at working obscure British slang into almost every page, and unafraid to throw off the classical allusions or dazzle you with complicated plots and narrative structures. He's a writer's writer who tells a ripping good yarn as he goes.
Now, I wouldn't tell you a porkie, would I? Go get the first, A CLUBBABLE WOMAN, and see what I mean. —Mark Rose