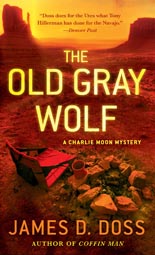 THE OLD GRAY WOLF is the seventeenth, and last, of the Charlie Moon mysteries written by James D. Doss. Doss, who died in 2012 just after completing this work, has created an eminently collectible series that mixes goofy humor with the spectacular setting of the American Southwest.
Charlie Moon is a former police officer with the Southern Ute Police Department, and he is now a sometime deputy for Scott Parris, chief of the Granite Creek Police. These two gentlemen come across one LeRoy Hooten as he steals a purse from a woman in a grocery store parking lot. Springing into action, they manage to hit the thief twice in the head and he falls to the ground, stunned. But unbeknownst to our two lawmen, Mr. Hooten had already had a previous run-in with a bar bouncer and was suffering from a concussion and internal bleeding in the brain. He dies later that night in custody.
This word eventually gets round to Ms. Francine Hooten, LeRoy's mother who is now childless as well as being a grieving widow. Widow of a very big-time mobster. Ms. Hooten is connected. And as such, she plans to make life very difficult for Mr. Parris and Mr. Moon. She starts by hiring a hit man.
I read this book just after Barbara Allan's ANTIQUES CON, and both books share a similar style. Each features a casual, meandering narrative progression, and the humor comes from asides, distractions, irrelevancies and sometimes direct addresses to the reader. It's the kind of thing you either love or hate, and it's easy for that kind of style to get on one's nerves. Doss complicates things by coyly concealing character identities and performing other story manipulations that may leave the reader feel a bit cheated.
If you like the writings of Stephen Leacock or adore the charms of the team that writes as Barbara Allan, the Doss books may be just what you need. If you like humor in general mixed in with your mysteries (then by all means you should pick up the masterpiece of this sub-genre, Richard Hull's THE MURDER OF MY AUNT) try out one of the seventeen books in the series and see if you'd like to hang out more with Charlie Moon. —Mark Rose