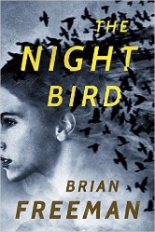 In THE NIGHT BIRD, his latest stand-alone mystery, Brian Freeman again probes the psychological themes found in most of his previous works. Here, however, a psychologist and her unusual therapy technique are one of the main characters.
San Francisco Homicide Detective Frost Easton is investigating a series of bizarre deaths. The fact that the victims, all women, reportedly suffered psychotic breakdowns just before their deaths causes Easton to look for other possibilities connections between the victims.
Easton discovers that the victims were patients of psychiatrist Francesca Stein. Stein is known for her controversial but effective therapy of completely erasing her client's most terrifying memories. Somehow these patients are being driven to their violent deaths.
Both Stein and Easton trace the personal histories of the victims to find the cause of their deaths. Then a shadowy individual who calls himself The Night Bird contacts them both. Soon Stein and Easton conclude that The Night Bird is killing these once troubled women. But as more women become victims, Stein must confront her own memories, and Easton finds himself a potential target of the killer.
Freeman's third-person narrative, with its constantly shifting perspectives, ironically works best when the focus is on his secondary characters – especially the female victims. The combination of the victims' sparse back-stories works well with the often-brutal details of their sudden psychotic behavior and violent deaths. This is demonstrated in the novel's opening chapter, where a woman suddenly acts out strangely before her death while driving across the San Francisco-Oakland Bay Bridge.
Unfortunately this same technique does not work as well with the two lead characters, Easton and Stein. We long to know more about both of these contrasting individuals. But Freeman supplies only the most minimal background to their motivations and current lives.
Also disturbing is the dubious plot premise of the ability to remove disturbing memories. Freeman tries to convince us of this with Stein's combination of hypnosis, sensory stimulation, and at times the minimal assistance of certain drugs. But we are still not completely convinced; especially following the recent deluge of evidence that debunked the theory of "recovered memories" (which Stein refer to while explaining her technique).
Yet in spite of these drawbacks Freeman keeps us involved with his effective build-up of suspense as the murderer pulls more victims into his control, and inches closer to unhinging Easton's personal life.
There are moments, however, when the shifting perspective seems to slow the story's pace. This is especially annoying after several scenes that leave us eager to know more, only to wait until another secondary character or incident is dealt with.
Freeman lives in Minnesota, but his depiction of San Francisco would have you believe he is a native of the Bay City. The novel is enhanced with the many landmark buildings, neighborhoods, and of course the legendary fog that distinguishes San Francisco.
THE NIGHT BIRD may not be among Freeman's best work, but the followers of his several popular series and stand-alone works will still find much to keep them satisfied. If those new to Freeman can work their way beyond the suspicious premise and scant central characters, they will find much more depth in his previously published novels. —Alan Cranis