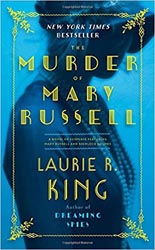 I wonder if I'm getting to be a bit Sherlock-ed. After collecting Sherlockiana for 20 years, then running through multiple video reboots, some very welcome (Jeremy Brett, Benedict Cumberbatch), some not so much (Robert Downey Jr.), and then reading re-inventions or reinterpretations of the canon from some very fine writers (Laurie R. King) and some not so fine (John Gardner), I wonder if it's all become just a bit too much.
It was my first thought on reading the new-in-paperback THE MURDER OF MARY RUSSELL, Laurie R. King's 14th novel featuring Sherlock Holmes as having been married to one Mary Russell. In this installment, Holmes doesn't even show up until around page 130 and that's in an extensive flashback. For this book primarily is less about Holmes or even Russell, and more about the very colorful past of one Mrs. Hudson.
Who knew that Mrs. Hudson in her younger days was a supremely gifted con artist, that she had a son who was sent off to Australia, and that very son has now returned to wreak a little havoc in Mrs. Hudson's and the Holmes' lives? Well, the author does a bang-up job of giving a real history to Mrs. Hudson, explains her odd attachment to her extremely odd tenant and gives her a full life that we've only seen in extremely rare glimpses from the written canon.
If you have gotten over the marriage of Holmes, something that's still a little galling for me even after more than ten of Laurie R. King's books, then it will be no problem for you to swallow the conceit of Mrs. Hudson as sexy teenage thief. The good news is that you can't fault King's prose. Her clarity and storytelling are above reproach and if you're a series fan, then this will be the one book that throws a little light on an always-present but rarely discussed character in the canon. If you just like mysteries, this is a little convoluted and far-fetched revenge story with Mrs. Hudson doing something very unlikely one year after the birth of her child, which is hardly explained. —Mark Rose