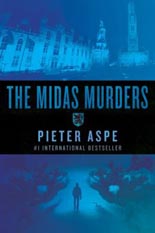 It's wonderful to discover an author new to me writing in a language from which I haven't seen many mystery practitioners (Flemish), in a book set in a country that also seems underserved by the genre (Belgium). Pieter Aspe is a prolific author with more than 30 books to his credit, but seemingly only two of which have been translated into English.
Aspe's series character is Inspector Pieter Van In, and he made his debut in THE SQUARE OF REVENGE, originally published in 1995 and published in English by Pegasus just last year. The second book in the series is the one under review, THE MIDAS MURDERS.
Van In is a rough-and-tumble, hard-drinking son of a bitch who is five months behind on his mortgage, and not afraid to threaten the manager of the bank that holds said mortgage. The inspector is a complex and interesting character who has immense promise, but he's being dealt a bad hand by either his author or his author's translator, Brian Doyle.
The plot concerns a German businessman found bludgeoned in the Bruges snow. This individual worked for a big tour company, but there is a hint that this man was somehow connected to the Nazi occupation during World War II, and perhaps the theft of Belgian art treasures. Was his death connected to the old war?
I don't know. Maybe. It doesn't seem like Aspe or Doyle cares. There's a story here, but it's hard to figure out with the main character's multitudinous issues (drunken faints, heart attacks, depressive outbreaks) and the nonlinearity of the plot. Connections are made in the author's head that don't necessarily make it to the printed page.
The plot could be interesting. It hints at Nazi confiscation of artworks, corruption in high places based on old secrets and more. But there's almost too much development of the protagonist, too much devotion to his bad habits and self-destructive behaviors — so much so that I began to care less about the story.
And that's a problem. Again, I'm unsure if it's the fault of Aspe or Doyle (or both), but there are issues. For instance, the citizens of Belgium seem to be in a perpetually bad mood. With their actions, body language and dialogue, they all seem to be a miserable bunch. Words are never "said" — they are "snapped indignantly," "snorted contemptuously," "sniggered," "sneered," "grouched," "swaggered," "snarled," "whined" and "growled," all in just the first 30 pages. When we're talking about the progression of a case, the word "evolutions" is used instead of "developments," and that seems particularly tone-deaf. Really, such a level of weirdness is hard to read.
In the end, while Pieter Van In is a fascinating character, and the setting of Belgium is unusual, this particular entry in the series never spoke to me. It may be worth another try down the road. —Mark Rose