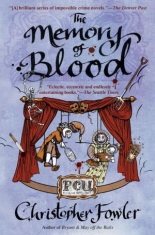 THE MEMORY OF BLOOD is the latest addition to Christopher Fowler's wonderfully entertaining Arthur Bryant and John May mystery series. As in the novels that came before it, the nature of the crime, as well as how it is investigated, more than justifies its being assigned to the Peculiar Crimes Unit.
Robert Kramer, the wealthy producer of a new play at the New Strand Theatre in London, is hosting a party at his stately mansion for the cast, crew and other assorted individuals. The evening turns tragic when Kramer's young wife decides to check on their baby son.
The door to the upstairs nursery is locked from the inside. When Kramer breaks down the door, he and his wife discover that their baby son had apparently been thrown to his death out of the window. The only clue to the murder is a wooden puppet of Mr. Punch — part of Kramer's large collection, found lying next to the baby's crib.
 
Senior Detectives Bryant, May and the rest of the PCU are immediately called from their newly opened warehouse offices to the scene of the crime. Not surprisingly, all those attending the party are interviewed as possible suspects.
But things take a turn for the truly strange when it is revealed that the baby was shaken to death before being thrown — and that marks on the infant's neck show the traces of wooden hands. Did the puppet Mr. Punch, with his history of impish and devious deeds, somehow come to life and kill the baby boy?
 
It doesn't take long for Bryant and May to begin their preferred separate, yet related methods of investigation. While both are well on in years, May leans toward more modern methods, with computerized graphs, forensic laboratory evidence and other near state-of-the-art systems. Bryant, the elder of the pair, has little patience with such contemporary wastes of time, insisting that the key to the murder is within his musty old collection of little-known, highly specialized reference books, and other esoteric, yet strangely related objects.
 
As is usually the case with this series, Fowler weaves fascinating bits of history and lore into his murder mystery. Here it is the long, distinguished history of British theater, as well as the strange origins of the Punch and Judy puppet shows that have entertained children for hundreds of years, yet contain symbols and references much deeper — and much, much darker — than recognized or appreciated by such young audiences.
Along the way as well, the author toys with traditional British crime fiction structure — in particular, the perennial "locked room" mystery with its enclosed group of suspects, all of whom harbor potential motive for the murder.
 
Propelling all of this, again as usual, is the droll humor that seems to permeate every page — no small accomplishment, considering the otherwise shocking nature of the homicide. This is especially true as May continually persists with the perplexing and often unexplained behavior of his partner, knowing full and well that Bryant will eventually pull everything together — in near-Holmesian manner — and make it all seem so perfectly logical and apparent.
 
Bryant and May fans will enthusiastically welcome another chance to be among their old friends in the PCU. Yet Fowler allows newcomers into the fold by virtue of a less than objective "Guide to the Peculiar Crimes Unit, Its Staff and Aims," obtained through Wikileaks, that opens the novel.
 
Like the entire Bryant and May series, THE MEMORY OF BLOOD is a treat for admirers of British crime fiction, with more than enough unexpected and often foreboding essentials to appeal to any reader from across the pond. Pour yourself a generous serving of your preferred liquid libation — and enjoy! —Alan Cranis