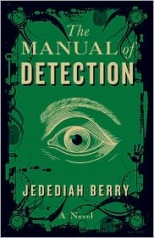 Give THE MANUAL OF DETECTION points for originality. Jedediah Berry's debut novel puts forth a premise different from any other mystery you're apt to find. Even if it may not completely pay off for the attention invested, it's at least unlike everything else you've read so far this year.
Charles Unwin is its beleaguered narrator — a lonely, unassuming, middle-aged man who has spent the last 20 years working as a clerk in the Agency, cataloguing the clues of superstar Detective Sivart, he of such famed cases as "The Oldest Murdered Man," "The Three Deaths of Colonel Baker" and "The Man Who Stole November Twelfth."
Suddenly, the very private Unwin — that name can't be accidental — is promoted without explanation to the very public position of detective. He doesn't want it and thinks it's a mistake, but when he goes to see his new supervisor, he finds that man murdered in his office. Adding insult to injury, Sivart has gone missing. Furthermore, something a little "off" is discovered with a museum mummy that threatens to undo all of Sivart's supposedly solved cases.
All Unwin has to go on is the copy of the Agency's standard-issue MANUAL OF DETECTION, and it's missing Chapter 18 — the very pages he's somewhat cryptically told to consult. And don't forget the dreams.
Ah, yes, the dreams. Berry's novel floats along from the start in a state that's positively dream-like, and for good reason, as will be revealed. That very revelation likely will further entrance readers into submission or repel them in irritation. See, MANUAL shares all the cleverness and ingenuity of a Charlie Kaufman film … and also its eventual frustration and pretension, when its story grows too cagey for its own good.
Berry's a fine writer, though — his sentences are at once precise and lyrical, all in the service of his Big Idea. This literary mystery/quasi-fantasy has its share of strengths; despite that, my enthusiasm for it waned ever so slightly after its first third, ending on a bitter — but not sour — note of "eh." But it was an admirable "eh." —Rod Lott