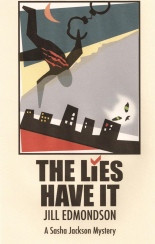 Jill Edmondson's third novel featuring tough gal private eye Sasha Jackson is THE LIES HAVE IT, following the debut of BLOOD AND GROOM and its sequel, DEAD LIGHT DISTRICT. Jackson is a young P.I. in Toronto, and the Canadian city plays almost as much of a role in the stories, as does Jackson.
The author obviously loves the town and goes to great pains to make sure the reader has an understanding of the streets and the locations. But the real draw is the character of Jackson. An ex-singer in a rock band, she's a fearless and aggressive investigator and often finds ways to get herself into serious trouble. She's also a little scatterbrained, yet more than willing to own up to her mistakes.
THE LIES HAVE IT opens with Jackson tending bar, as a favor to a friend, at a local meeting of a bondage and discipline fetish society. It's the kind of quirky and funky atmosphere that's prevalent in all the Jackson novels. At the event, she accidentally ends up with the mobile phone of the party's host, and is mortified to find out the next day that the host has been murdered. Before she hands the phone over to the police, she takes note of some of the numbers that the host recently called, and the investigation gets under way.
Detective work here and in the other associated cases within is robust, though there's a lot of depending on friends she has on the police — friends who seem able to give out way more information than one would think likely. Dialogue is fresh and realistic, and the plotting is strong.
This isn't an explosive fireball of a book, but it is a well-written solid mystery with a very likable set of characters featuring a strong feminine lead. Keep an eye out for Edmondson — this Canadian author could use more exposure. —Mark Rose