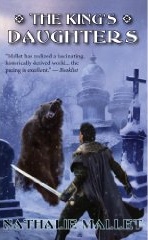 In what could be subtitled "The Comic Misadventures of Prince Amir," our imperious but lovable prince from Nathalie Mallet's THE PRINCES OF THE GOLDEN CAGE returns in THE KING'S DAUGHTERS. Amir is escorting Eva, one of the king of Sorvinka's titular daughters, back to her home in order to obtain the approval of her father for their marriage. But in the first of a series of missteps, Amir has as his escort soldiers from a neighboring kingdom that is at war with Sorvinka.
The king is most displeased. This displeasure mounts when it turns out that one of Eva's sisters has been abducted, and a strange beast is roaming the castle, killing innocent men and women. Another of Eva's sisters goes missing, and Amir decides to investigate.
Mallet is not subtle with her foreshadowing, so you'll be racing ahead trying to get the author to admit what you already know, but that's a minor annoyance, given her penchant for storytelling. Most of her main characters are succinctly drawn, with real motivations and realistic behaviors. She has a jeweler's eye for scene settings and color, and her pacing is just right. She's not the kind of author who would write a 600-page tedious doorstop of a book; her style is much more suited to the quick series installment in paperback that we all used to love about fantasy fiction back in the '70s and '80s, when such a thing was more common.
The good news is that she's still published by San Francisco's Night Shade Books, one of the better fantasy publishers out there, and that the series will continue in the upcoming DEATH IN THE TRAVELING CITY. The bad news is that it took too long for the second book to appear after the first. So, more, please, and soon. —Mark Rose
OTHER BOOKGASM REVIEWS OF THIS AUTHOR:
• THE PRINCES OF THE GOLDEN CAGE by Nathalie Mallet