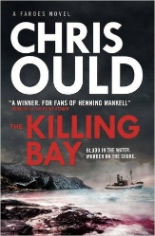 Wow. I'd never read a mystery set within the Faroe Islands, but after Chris Ould's THE KILLING BAY, I want to go back and read his first (THE BLOOD STRAND) and will eagerly await what I presume to be the third in the series (THE FIRE PIT, due February 2018).
He brilliantly describes the Faroe countryside (very evocative, and with a handy map and place name pronunciation guide) and the Faroe culture (such as the grind, a whale hunt in which all the islanders take a share of the meat and blubber from the dead animal).
In fact, it is this grind that sets off the book's conflict. The islanders take a pragmatic approach to the whale hunt. They've done it for ever and it's a way for them to get food. Representatives of the Atlantic Wildlife Conservation Alliance, or AWCA, are on the island attempting to stop the whale hunt and recording the event to showcase its barbarism to a wider public. Tensions mount between the two groups and the police are on alert.
But things get very bad indeed for one of the AWCA's official photographers who is found in a remote hut, beaten to death, stabbed once, and deliberately displayed under a lurid piece of graffiti that reads "Fuck the Whales." Did a local get tired of the AWCA invaders and decide to kill one of them as a lesson? Or is it only meant to look that way? And why are there mysterious special forces involved?
The author writes a masterful police procedural that ties all these elements together in a package that features not one, but two, main characters. Hjalti Hentze is the local detective assigned to the murder, and he gets help from an English detective, Jan Reyna, who was born on the Faroes but is taking a temporary leave of absence from his job in England due to … well, it looks like we'll find more out about that in the third book.
Hentze's segments are written in third-person, and Reyna's is written in the first person, and yet both men have equal prominence and equally fully developed characters, a stylistic trick that seems like it would be very difficult to pull off, but Ould does so without trouble. Reyna is additionally plagued by what happened to his mother, a mystery that is only solvable while he is on Faroe soil. Hentze is lucky to be simply plagued by office politics.
THE KILLING BAY was a thoroughly fun read with an unusual setting, great dialogue, excellent major and minor characters and a captivating storyline. Highly recommended. —Mark Rose