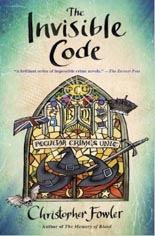 When does the return of two old codgers promise hours of joy? When said codgers are Arthur Bryant and John May, the lead detectives of Christopher Fowler's inventive, unique and altogether wonderful Peculiar Crimes Unit mystery series. THE INVISIBLE CODE, the 10th and latest of the British series to find its way to this side of the pond, presents the two elderly sleuths with their most baffling and dangerous case to date.
 
A woman is found dead inside a London church. The death has no apparent cause, so Bryant and May naturally assume the case will come to them and their fellow investigators in the Peculiar Crime Unit (PCU), that little-known but amazingly effective branch of British law enforcement that handles crimes far off the beaten path.
But the case stays with the traditional crime unit, because Bryant and May are called to handle another and very secret problem.
Oskar Kasavian, a political leader devoted to shutting down the PCU, suddenly needs their help. His wife, Sabrina, has been acting very strange lately. She is convinced there are hidden forces out to destroy her, and her behavior has been one explosive and publicly embarrassing episode after another. Kasavian is due to head an international conference, and can't afford to have his wife create a scandal, so he asks the PCU — the last people he would ever resort to — to watch over her and possibly find the source of her paranoid behavior.
 
It seems at first that Sabrina's problems stem from her lower-class, immigrant background and her difficulties assimilating into upper-crust UK manners and life. Bryant, however, suspects something far more complicated — and possibly supernatural. So once again, Bryant and May dispatch their team in various and seemingly disconnected directions. Things turn sinister when certain suspects are found murdered.
 
All of the usual traits that distinguish the PCU series are on display. Most notably — and enjoyably — are Bryant and May themselves: two "Golden Age" (that is, elderly), but incredibly sharp-witted detectives involved in an otherworldly tinged mystery, clinging to traditional investigative methods while the technologically advanced world threatens to crush them.
 
Surprisingly, Bryant, the oldest of the pair, seems slightly less technophobic this time out. He carries a smartphone these days, even with a suitably appropriate ringtone, yet uses it exclusively to make and receive calls — that is, when he remembers to carry it. While he acknowledges the domination of Goggle and other online resources, he'd still rather bury himself beneath a pile of esoteric books and journals, or stalk the lesser-known sections of various local libraries and museums.
 
As is typical of every PCU novel, the real joy of THE INVISIBLE CODE is in the telling itself. Fowler's prose and humor is slightly understated and dry — befitting a British stylist — yet lively and inviting at the same time. There are also the wild complexities of the plot itself. While Bryant and May investigate the murders, we are also treated to such diverse and arcane topics as codes and ciphers, the history of Bedlam, and even secret rituals of Christ's blood.
 
It might seem impossible to pull all these loose and unrelated ends together into a coherent and convincing resolution. But the PCU is unlike any investigative team you've ever encountered. So, again, Fowler manages the seemingly impossible and has us laughing and loving every moment of it.
 
"You need to start acting your age," a doctor warns Bryant as the novel opens. Replies Bryant, "If I did, I'd be dead." Oddly enough, his refusal to act his age is very good news for those of us who enjoy and follow this exceptional series.
 
If Fowler and his PCU stars aren't already part of your mystery reading habits, there's no better time to welcome them. You'll soon find them competing for the top of your "to be read" pile. —Alan Cranis