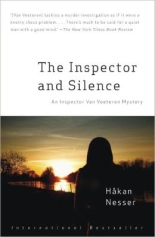 The fifth book in Håkan Nesser's Inspector Van Veeteren series continues the high quality found in its predecessors. THE INSPECTOR AND SILENCE has Van Veeteren heading off to a remote religious camp to assist a local inspector investigating the disappearance of a girl from the camp.
The camp in question is presided over by one adult male, and his flock consists of three adult women and a gaggle of teenage girls. He calls it The Pure Life, and this sect seems to have a number of followers in the area. Van Veeteren finds it all rubbish. But eventually he finds rape and murder.
The missing girl turns up, and now the inspector must use all his detection skills to locate and stop the killer. Unfortunately, the team at Pure Life seems reluctant to help, possibly because their leader is of course the prime suspect. Neither the women nor the girls are saying anything to the police. And when a second dead girl is discovered, and the camp leader has gone missing, things turn very serious indeed.
Nesser has a welcome conciseness to his style. He's able to generate significant emotion from just a few sentence fragments, investing the reader in the case and the detectives' reaction to same. His dialogue is brisk and realistic; the introspective moments of his characters all ring true; and Van Veeteren, who always seem teetering on the edge of retirement, makes for a worthy protagonist.
Nesser is definitely one of the authors to try if you think you might enjoy Scandinavian mysteries. —Mark Rose