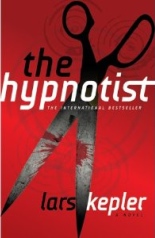 Hypnotism has always seemed to me like 90 percent con game and 10 percent people who are so gullible, they're practically a danger to themselves. So I was leery of reading a novel that revolves around the efficacy and dangers of using hypnotism in psychiatric practice. But it's Scandinavian crime fiction, my favorite subgenre, and so I gave THE HYPNOTIST by Lars Kepler — actually a male/female duo — a whirl. Sadly, I remain unconvinced.
The book is written well enough, is smoothly translated from the Swedish by Marlaine Delargy, and possesses most of the hallmarks of Nordic mysteries: the strange insistence on constantly mentioning street names, insular lives shattered by crimes of a monstrously horrific nature, and tons and tons of secrets, all jealously kept.
But the characters never really jump to life, or become likable or interesting, and the work suffers because of this. The lone bright spot, CID inspector Joona Linna, finds a family brutally murdered, with only a 15-year-old boy surviving. Linna convinces psychiatrist and disgraced hypnotist Erik Maria Bark to put the boy under hypnosis, but when he does so, the kid implies that he killed his own family. Linna is soon convinced of this, and the boy vows revenge on the hypnotist.
And then, because the police in this tale seem rather inept, the kid escapes. Shortly thereafter, Erik's son, who suffers from a rare blood disease and needs constant medical attention, is kidnapped. Has the killer taken him? The timing seems all wrong for it, and the two crimes may be unrelated.
Okay: fair premise for a contemporary thriller. But there are too many disconnects, and when Linna is out of the picture, the novel stalls. It takes our hypnotist way too many pages to remember that 10 years ago, his family was threatened by at least two of his patients, which I think the police might have enjoyed knowing about say, on page 30.
And we're treated to a tediously long recounting of what happened to Erik a decade before, and how he was forced to stop performing hypnotic therapy. There's a retired police inspector, conveniently related to Erik's wife, who goes about and bollixes up at least two distinct crime scenes and leads. Oh, and Erik wakes up a man in a coma and gets usable answers out of him. It's just too much, too much that is unlikely, too much that is strained.
It's not a bad book by any means, but it is also certainly not the standard-bearer for the genre of Nordic detective fiction. —Mark Rose