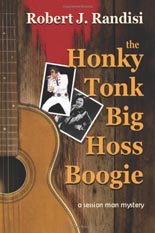 You're always in for a treat when you get the chance to read something new from Robert J. Randisi, be it in the Western genre under his own name, the GUNSMITH series he writes under a pseudonym or, as in this case, his foray into crime and mysteries.
THE HONKY TONK BIG HOSS BOOGIE seems to be the start of a new mystery series with the backdrop of Nashville — not just the city itself, but its music scene; as the cover states, this is a "Session Man Mystery" starring session guitarist Auggie Velez, a man who has made a career being part of the backbone of Music City, USA. He's worked in the studio as a gun for hire, so to speak, taking the jobs as they come.
Auggie is called upon by a twosome who have long shadows on the city: a big-time music producer who makes that known to all, and his longtime friend/lawyer. They want Auggie to do a simple job for them, since the musician works as a private eye in his spare time, mainly been doing simple jobs like serving papers and taking photos.
The job in question is to drop off an attaché case, no questions asked. Auggie is offered a nice little sum and a promise of getting his demo recorded and heard. It sounds too easy to be true, and neither man will tell Auggie anything else. It's a take-it-or-leave-it gig.
With HONKY TONK BIG HOSS BOOGIE being a mystery, of course some problems turn up. The main one is the man Auggie handed the case to winds up dead. The police have Auggie as suspect No. 1 because of his own mistake.
Randisi has loads of fun setting this story in the world of the Nashville music scene, with many a name popping up here and there, not to mention a swipe at a certain female singer who seems to never have a steady relationship. But that is just icing on the cake of this fun little mystery, especially when things are slowly discovered about what was in the case, and the characters Auggie encounters.
The book is a great set-up to what could be a fun series. I'm hopeful that there will be more Session Man mysteries to come, since Auggie and company are definitely the type of characters you would love to share a beer with. —Bruce Grossman