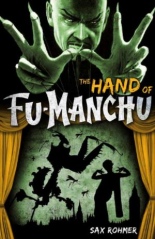 Titan Books wants you to get your pulp fiction on! Not some contemporary author's nostalgic "retro" re-creation, either. We're talking about the real deal here: the original Fu-Manchu mysteries by Sax Rohmer.
Arthur Henry Sarsfield Ward, who later adopted the pen name of Rohmer, first published his Fu-Manchu stories in British magazines in the early 1900s. They were hugely popular, so Rohmer continued the series, collecting the stories into 14 novels, until his death in 1959. Originally published in 1917, THE HAND OF FU-MANCHU is the third in Titan Books' long-overdue reissue of Rohmer's entire series.
Commissioner Nayland Smith and his friend and partner, Dr. Petrie, are called back to England from their latest Egyptian expedition when evidence shows that members of the Si-Fan are operating in London. The Si-Fan is a notorious Chinese organization whose agenda is world domination. Smith shocks Petrie with his theory that their nemesis, Dr. Fu-Manchu, the evil genius they once thought dead, is not only alive, but masterminding the Si-Fan's plot to overthrow all of Great Britain.
 
Smith's notion is quickly confirmed by the death of a British dignitary in a posh London hotel, along with the discovery of a strange box next to the murdered victim's body. The contents of the box, and other related clues, lead Smith and Petrie through the foggy streets and dangerous back alleys of London as they follow numerous elusive suspects. As they close in on the Si-Fan headquarters, they wonder if Fu-Manchu is really leading this mysterious organization, or if the group broke their ties with him, and Fu-Manchu is now acting alone.
 
Rohmer had a keen sense of what attracted and held his readers, and hence, filled his stories with exotic, far-flung locations; shadowy, tempting seductresses; and whirlwind scenes of action, plot twists, red herrings and cliffhangers. When collected and read as successive chapters of a novel, the pace often seems jerky. Yet the narrative threads are never far from the surface and quickly pull you back into the flow.
 
Sir Arthur Conan Doyle was obvious a tremendous influence on Rohmer, as the Fu-Manchu series are related as first-person recollections of Petrie, serving as Rohmer's Watson. Nayland Smith may lack the overwhelming deductive intelligence of Sherlock Holmes, but he is nonetheless resourceful and knowledgeable of the criminal mind. 
 
Fu-Manchu himself makes only a few actual appearances, but like Doyle's Professor Moriarty, his ominous presence is felt in every chapter. Younger readers, however, might be confused or put off by the way Rohmer sees not just Fu-Manchu, but every member of the Chinese or overall Asian population as evil.
As popular-fiction historian Leslie S. Klinger stresses in his essay appearing after the novel's conclusion, Rohmer capitalized on the "Yellow Peril" — the prejudicial fear of Asian conquest — that seized the public's imagination in the late 19th century. This demonizing of the insidious "evil other" in sensational fiction would later transfer to Communists in the 1950s and '60s, and more recently to Al- Qaeda and other radical Muslim terrorist groups.
 
The Fu-Manchu stories and character continue to entertain readers and influence future authors (per the testimonial blubs on the inside page) long after Rohmer's death, eventually finding its way into the movies, where the doctor was portrayed by Boris Karloff, Christopher Lee and even Peter Sellers, among others.
 
Like Robert E. Howard and Kenneth Robeson, Rohmer was one of the archetypes of pulp fiction whose stories would inspire much of the comic books, science fiction, horror and crime fiction we enjoy today. If you've never experienced the real Fu-Manchu — and especially if the name means nothing more to you than a strange-looking mustache — treat yourself to this and the preceding Titan reissues, and keep watch for the rest to appear soon. —Alan Cranis