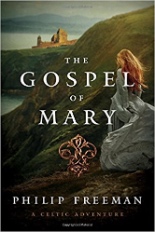 Philip Freeman's THE GOSPEL OF MARY is the third in his Sister Deirdre series of mysteries, but the first one I've read. It has an intriguing setting and premise. Deirdre is a young Catholic nun in sixth-century Ireland, but she is also a respected bard, and prone to get herself in trouble.
In a previous book, she ran afoul of a powerful abbot, and this abbot would love to find a way to destroy Deirdre and even the monastery where she lives. Thankfully, Deirdre's monastery treats women as equals to men as they are all children of God, but they also know that their existence is tenuous. Any scandal brought to the church could mean the end of the monastery, and probably Deirdre, too.
That's why when an aged nun visits the monastery and hands a manuscript to Deirdre claiming it is the lost Gospel of Mary, mother of Jesus, the monks and nuns are in an uproar. Is it true? Can these be the actual words of Mary, Mother of God? The established Church wants no part of this Gospel, whether true or not, and vows to destroy the manuscript. They believe it is heretical, and even if were a true gospel, it would spark division and sects in the Church itself, and Christianity is not necessarily a fully-established system in the sixth century. There is still the possibility that the religion could be destroyed by profane works.
Deirdre wants to translate the work first and if she believes it to be a hoax, plans to give up the manuscript. But the Church doesn't want to wait. So Deirdre goes into hiding, crossing tribal boundaries across Ireland, having adventures along the way, in her search for a safe place to do the translation and determine if the Gospel of Mary should be added to the canon of the Bible.
The best part is that the author doesn't shy away from creating an actual Gospel. We get to read the entirety of Freeman's Gospel of Mary, the words of a human mother who loves and fears for her son, who watches him die for all our sins. If the text of the Gospel comes across as too contemporary, it's still a better strategy than just alluding to what the Gospel might contain.
Freeman's writing style is simple, perhaps a bit too plodding in the "he said/she said – they did this, then they did that" department. I don't entirely get the logic of the Church wanting to destroy the Gospel, since even some of their representatives think that it may truly be the words of Mary. Hard to believe they would willingly just destroy a sacred text. But if you can make that leap, then THE GOSPEL OF MARY is a nice little tale. It's a short book which means you can toss this off in a day or two, and it makes for a fine bit of escapist reading.  —Mark Rose