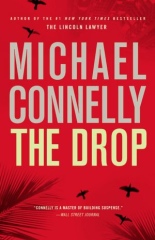 Michael Connelly's THE DROP begins with police detective Harry Bosch, the protagonist of this popular series, worrying about his dearth of new cases to investigate, as well as how long his career with the LAPD will last. He gets a case — two, in fact — before the opening chapter ends. Both, however, run him through some serious changes, leaving him worrying about his future in an entirely different manner.
DNA technology is responsible for the first case. Currently working with the LAPD's Open-Unsolved Unit, Bosch gets the test results of blood found on the body of a rape-and-murder victim from 1989. The blood matches that of Clayton Pell, a convicted sex offender living at a rehabilitation facility in LA. Bosch does the math and discovers that Pell would have been 8 at the time.
Did a kid really commit such a crime? Or did the Regional Crime Lab seriously corrupt the test results? Just as he begins to pore over the evidence, Bosch receives word that he has received a three-year extension on his Deferred Retirement Option Plan (DROP) with the force.
 
Then he is suddenly called upstairs to the Chief of Police's office. George Irving, son of powerful City Councilman Irvin Irving, was found dead on the grounds of LA's famous and fabled Chateau Marmont Hotel. It's not clear if the son jumped from the window of his seventh-floor room, or was pushed.
Councilman Irving, Bosch's longtime nemesis, insists that Bosch head the investigation. Bosch knows a case like this is full of "high jingo" — that is, full of political implications and complications. Still, he takes the case as ordered.
 
The chief insists Bosch give the Irving death first priority, but that doesn't stop Bosch from pursuing the older case. He discovers that while Pell may not have committed the '89 murder, he was nonetheless directly involved. And there may be an unsuspected, sadistic killer still at large in the city.
At the same time, Bosch finds that the Irving death is connected with a political conspiracy deep within the LAPD's past. It's high jingo the likes of which he has never experienced before.
 
Connelly shifts his narrative inventiveness into high gear right from the opening pages, and keeps us wonderfully off-balance up to and including the novel's conclusion. Through it all, we find the personal and political corruption of the Irving case as deeply disturbing as the violence and abuses of Pell's. The prose style is assured and smooth, just as we'd expect from this series, and still acknowledges the varied and idiosyncratic character of Bosch's Southern California beat.
 
Amazingly, Bosch continues to grow as a character in the midst of all these investigative entanglements. He gingerly approaches a promising new relationship with an attractive counselor at Pell's facility, while continually redefining his role as single father to his teenaged daughter. Headstrong as ever on the job, Bosch also finds that his determination creates friction — and potentially serious consequences — with his current, less experienced but ambitious partner.
 
As the Pell case nears its conclusion in the book's final quarter, the pace suddenly seems to slow to an uphill crawl. It's only temporary, however, and readers should hang in there for the additional revelations Connelly has in store for both investigations.
 
There was a time when Bosch could never imagine himself doing anything else with his life but detective work. But the cases he handles in THE DROP, with the unimagined depths of depravity, as well as corruption and betrayal that seems to touch everyone he's ever trusted, leaves him wondering if the extra years he's been given are worth the effort.
 
For now, it's an unanswered dilemma. Yet there is no doubt that THE DROP is one of the best entries in a series that has for several years been hailed by readers and critics alike as among the very finest in contemporary crime fiction. —Alan Cranis